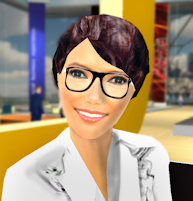 Perpetual Connectivity means that visitors to your virtual booth can contact you anytime, 24 hours a day, seven days a week.
Kansas City, Missouri (PRWEB) October 23, 2016
The Executive Host of EGM Connect 3D Virtual Tradeshows was fortunate enough to attend the 2016 Consumer Electronics Show in Las Vegas to get the latest information about smart home/home automation, innovative transportation, wireless technologies, 3D virtual reality and more. What is interesting is that within 6 months approximately 20 percent of the contacts made at this show were no longer with the company or the contact information was no longer valid.
This means that anyone, whether they are new customers, previous clients or media representatives, were not able to follow up for updated information using the contact information obtained at the show. New startups in any industry, but especially in highly competitive or emerging industries, cannot afford to let potential clients or interested media authors slip away, especially after spending the time and money to exhibit at an in-person tradeshow.
The EGM Connect 3D Virtual Tradeshows offer both live events and perpetual connectivity so that attendees of these shows can visit the booths or Host Homes (see previous press release) either during the live events or any time after and still get in contact with the exhibitor/vendor by clicking on the 24/7 virtual avatar assistant. The virtual assistants display updated contact information for visitors to use and details about the company. Connecting with that exhibitor/vendor's social media is also a snap. All attendees need to do is click on the popular social media icon of their choice to instantly connect with that vendor.
The booths inside the EGM Connect tradeshows are modeled after in-person booths in that visitors can view videos, read brochures and product literature and even watch rotatable views of products offered by the vendor. Virtual booths can be constantly updated as new products become available, as industry trends change or as literature needs to be updated.
The fee to have a virtual booth is quite reasonable as compared to actual in-person tradeshows, conventions, expositions and similar events. Since attendees can visit from the comfort of their own computer there is no travel, accommodation, meals or registration cost to pay. The EGM Connect 3D Virtual Tradeshows involve no fee for attendees to log in and look around.
At the time of this press release there is no sponsor for the "Smart Home – Smart Grid" Host Home but all seven of the other Host Homes are now sponsored and an industry representative for the Smart Tech world will emerge to sponsor the Smart Home Host Home by show time October 28, 2016. To learn more about the EGM Connect 3D Virtual Tradeshows or for complimentary registration as a show attendee, please visit http://EGMConnect3D.com