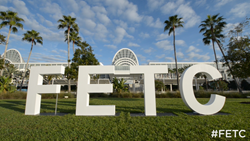 With a 10 percent increase in attendees this year, I am proud of what my team has accomplished while managing our first FETC since acquiring the conference last spring.
(PRWEB) January 28, 2016
Thousands of edtech professionals gathered at the Future of Education Technology Conference (FETC) in Orlando, Jan. 12-15, to get inspired and learn how to take on new challenges in 21st century classrooms.
Year-after-year, FETC is known as one of the largest edtech conferences. Providing pre-K – 12 educators and administrators the opportunity to explore the integration of technology across the curriculum, the event offers attendees hands-on exposure to the latest software and successful implementation strategies through keynotes, sessions, workshops, the expo hall and more – including TechShare Live, a session where technology experts Adam Bellow, Leslie Fisher and Kathy Schrock, present up-and-coming tech.
Nearly 10,000 professionals – including superintendents; principals and vice principals; educators; district-level leaders; curriculum designers; media specialists; technology directors/technologists; instructional support staff; and non-instructional support staff – from all 50 states and 49 countries converged at the 36th annual FETC.
"With a 10 percent increase in attendees this year, I am proud of what my team has accomplished while managing our first FETC since acquiring the conference last spring," said LRP Vice President of Conferences, Ed Chase. "We know attendees' expectations are high, and based on feedback, we exceeded them."
An affiliate of LRP Publications, LRP Conferences rebranded FETC to the "Future of Education Technology Conference."
At FETC, attendees had access to more than 500 sessions and workshops focusing on key edtech trends such as science, technology, engineering and math (STEM) education; game-based learning; flipped learning; 3D printing; maker education; and mobile, online and blended learning.
"We know that our attendees make a huge impact on the lives of future generations," said Chase. "That's why this year, we hand-picked influencers to lead FETC's sessions. Our goal is for attendees to walk away with not only new tools and approaches, but also inspiration. We succeeded in reaching this goal and look forward to providing attendees with both classroom solutions and inspiration for years to come."
Reshma Saujani, Founder and CEO of Girls Who Code, kicked off the conference as the Opening Keynote. Discussing STEM education and the importance of students seeing people like them in STEM careers, she fired up attendees by providing ways each of them could help close the gender gap in technology fields.
FETC continued the STEM theme by recognizing excellence and innovation in the field of STEM education at the primary, middle and high school levels at the second annual STEM Excellence Awards. These schools were recognized for being among the top 10 STEM programs in the nation based on their use of interdisciplinary curriculum, collaboration, design, problem solving and the STEM experiences offered. The high school division winner was Nikola Tesla STEM High School (Redmond, Wash.), the middle school division winner was The STEM Academy (Savannah, Ga.) and the elementary school division winner was Douglas L. Jamerson, Jr. Elementary (St. Petersburg, Fla.).
"With STEM becoming increasingly important in classroom curriculum, we are thrilled to honor and highlight schools with exemplary STEM programs," said FETC Program and Conference Manager Jennifer Womble. "Congrats to these programs which have changed the way their students look at learning. We look forward to seeing the impact these schools will continue to have on students and how these schools might be a model to other schools throughout the U.S."
The STEM discussion progressed as engineer, astronaut and former NFL player Leland Melvin shared his experiences during the Innovation Keynote "The Right Stuff is the Never Give Up Stuff." Melvin received a large round of applause when he stated, "There is so much pressure on kids to succeed, we need to let them know failure isn't the end," said Melvin. "It is OK to fail – when a community of people believes in kids, great things happen!"
Additionally, Sean McComb, featured Keynote and National Teacher of the Year, shared his positive experiences in transforming his classroom and how attendees can do the same.
The expo featured more than 400 exhibitors, including Florida Shines, Insight Systems Exchange, National Science Foundation, Scantron, Microsoft, Lenovo, Symballo Edu, Aver and Epson. This year's exhibit hall had an updated design which allowed attendees to experience even more technology in a smooth-flowing floor plan.
FETC 2017 will be held Jan. 24 - 27, at Orlando's Orange County Convention Center. For more information, please visit http://www.fetc.org. Join the conversation by following the conference on Twitter (@FETC) and using and searching the hashtag #FETC.
###
About the Future of Education Technology Conference (FETC)
For 36 years, the Future of Education Technology Conference (FETC) has brought together education leaders and technology experts to exchange techniques and strategies for teaching and learning success. Known worldwide for its outstanding program, FETC provides educators and administrators the opportunity to explore the integration of technology across the curriculum — from pre-K - 12 — through hands-on exposure to the latest hardware, software and successful strategies.
About LRP Conferences, LLC
LRP Conferences, LLC, an affiliate of LRP Publications, produces more than a dozen professional conferences and trade shows annually, including: Campus Technology Conference, Transformational Technology in Higher Ed Conference, Ergonomics Conference & ErgoExpo, Future of Education Technology Conference (FETC), HR in Hospitality Conference, HR Technology® Conference & Exposition, Recruiting Trends Conference, and National Workers' Compensation and Disability Conference® & Expo.
About LRP Publications
LRP Publications, headquartered in Palm Beach Gardens, Fla., is known as educators' most trusted source for practical and legal education administration guidance and produces newsletters (Education Daily®), books, pamphlets, DVDs, audio conferences, eLearning courses, online services (Title1admin.com, EducationDaily.com and Special Ed Connection.com) and training tools to help educators implement sound programs and avoid compliance errors related to Title I, autism, discipline and more. LRP also produces professional education conferences including: National Institute on Legal Issues of Educating Individuals with Disabilities® and Special Education School Attorneys Conference. For a complete list of LRP products, eCourses and conferences, please visit http://www.lrp.com.