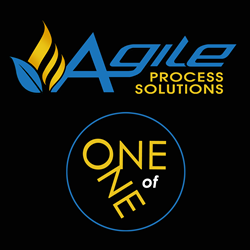 Agile's ONEofONE System optimizes asset performance to hit targeted financial benchmarks throughout a project's full life-cycle.
Midland, Texas (PRWEB) April 05, 2016
Agile Process Solutions, LLC of Midland, Texas, former owners & managers of SouthTex Treaters until 2011, is the new brand identity for these Permian Basin gas treating pioneers. The company has completed a major production facility expansion, and will formally announce its new ONEofONE System, facilities, and a major client services initiative with its sponsorship of the 2016 GPA Convention, to be held at the Hilton New Orleans Riverside Hotel, April 10-13.
"There has been a lot going on at Agile internally since the company's official inception in 2014, and while this development means much more cost-effective and energy-efficient gas treating solutions for our clients, that work has somewhat limited our ability to fully develop latent client relationships and oil & gas treating markets the way we would have liked before now. That's all changing now very quickly," said Nader Khaki, Agile Vice-President.
Indeed, Agile now commands a newly-modernized mass production facility and client-centric culture that can produce significant bottom-line results for oil & gas producers, driven by Agile's best practices business model and ONEofONE System designed for midstream professionals walking the CAPEX/OPEX tightrope. Agile's ONEofONE System optimizes asset performance to hit targeted financial benchmarks throughout a project's full life-cycle. The company has also recently added industry veteran James Rodgers as its business development director, who will spearhead Agile's multi-tiered client services initiative going forward.
For GPA Convention attendees, Agile Process Solutions representatives can be located either at the convention's Recharge Lounge (where attendees can juice up their devices for free outside of meeting rooms), or at their exhibit booth in the Chemin Royale Foyer close to Registration. Company information will also be available through Agile's organizational profile within the GPA mobile app.
Paul Morrow, Agile President, summed up the company's commitment to public relations and client services strategy going forward. "We are as interested in our next project as the next guy, and excited for any opportunity to prove what a difference a customer-focused management strategy and culture can make to a project. But Agile is not simply looking for it's next project. We are most interested in developing longer-term working relationships with clients who want to benefit from the cumulative advantages that only a company with full in-house production capability and a values-based management system can provide."
"There seems to be a lot of 'up and down' with craftsmanship, project quality and customer experience with similar providers in our industry," Morrow continued. "Agile was built from the ground up with these qualities and industry best practices at the forefront, and we knew that our production capability and company culture had to be in place beforehand to support these things. Industry producers will soon know Agile Process Solutions as the 'rock' that can effectively execute over and over again, an oil and gas treatment supplier that is truly built for today's market."
Agile Process Solutions, LLC, in collaboration with Morrow Renewables, LLC, offers natural gas producers and midstream oil & gas operators process design, fabrication, construction and start-up for custom and stock oil and gas processing plants and equipment, with options for contract treating. Specializing in natural gas and oil facilities including amine treatment plants up to 2000 GPM, the company also provides crude oil stabilizers, TEG (glycol) dehydration units, physical solvent treating and NGL recovery (dewpoint control) and fractionation. Agile's ownership has over 100 years' combined experience in plant design and LNG plant manufacturing. The company operates a private business complex in Midland, Texas.