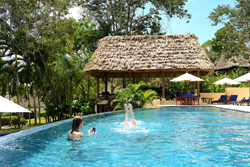 Once they see how varied and exciting our 'wild west' is, they'll tell their friends.
San Ignacio, Belize (PRWEB) April 11, 2016
By holidaying in Belize during August 2016, travellers can enjoy a complimentary night's stay in a Belizean rainforest setting, thanks to a new end-of-summer offer just announced by The Lodge at Chaa Creek.
Denise Duran, Chaa Creek's public relations and events specialist, said that the offer of "stay two nights and get the third night free," representing a savings of over 30% on a three-day vacation, has been designed to introduce more people to Western Belize's Cayo District, which was recently named as one of two "Travellers' top-rated places in Belize" by the popular travel site Trip Advisor.
"Our Caribbean attractions such as Ambergris Caye, the Blue Hole and the world's second largest great barrier reef get a lot of attention, but when people discover the western part of our country, with the vast rainforests, ancient Maya temples, cities and ceremonial caves, the beautiful rivers and many activities such as jungle horseback riding, canoeing, mountain biking and more, they're invariably amazed," Ms. Duran said.
"Combined with the growing farm-to-table dining culture, a lively music and arts scene and a wealth of things to do, Cayo has much to offer, and we decided to encourage people to experience it for themselves with a significant discount in accommodations throughout August.
"We're betting that once they see how varied and exciting our 'wild west' is, they'll tell their friends and want to see even more," she added.
Ms. Duran said that with the wide range of amenities and activities available within Chaa Creek's 400-acre private rainforest nature reserve, everyone from families, couples, groups of friends and individual adventurers will find plenty to do over the course of their vacation.
"With horseback riding, canoeing, swimming and lounging around the infinity pool, guided bird watching and tours of the Belize Natural History Centre, butterfly exhibit, and Maya organic farm and medicinal plant trail, as well as enjoying walks through tropical gardens and along well maintained jungle trails, there's something for people of all ages.
"And for couples, it makes for the perfect romantic getaway, with the internationally recognised Hilltop Spa, special couples' picnics, sunset river trips, room service and other luxuries available," she said.
Ms. Duran pointed out that Chaa Creek's Mariposa restaurant and Guava Limb Café were in the news last year, with the Guava Limb Café being voted Belize's "Best Restaurant 2015" by the Belize Tourism Board. Both it and Mariposa have hosted a highly regarded international chef and restaurateur to mentor local cooks and make the most of the onsite Maya organic farm, local Caribbean seafood and other resources.
"We've been concentrating on creating dining experiences that do justice to our beautiful natural settings," she explained.
In addition to Chaa Creek's many onsite activities, the Cayo district also features the Actun Tunichil Muknal and other Maya ceremonial caves, the refreshing Mountain Pine Ridge with the Rio On Pools and Rio Frio Cave and the ancient Maya metropolis of Caracol. The magnificent ancient city of Tikal in neighbouring Guatemala is another exciting day tip, she said. "We're more than happy to assist with tours and car hire for local outings, and can organise expeditions to Tikal and anywhere else guests wish to go.
"And with the Maya Flats airstrip at our front door, guests can easily extend their vacations on to Belize's Caribbean coast and cayes. Our location, 30 years of experience and network of colleagues all make Chaa Creek the perfect hub for exploring the country and the entire region," she said.
August, Ms. Duran said, is an excellent time to visit Belize, a month known as the "Little Dry" with a decrease in rainfall and an average temperature of 82° F (28° C), making it perfect for outdoor activities and relaxation.
"There's a lot to do, and our guests say it's also the perfect month for just lounging around the pool or swinging in hammocks on your private veranda with a good book and cold drink. With the drier, westerly winds, you get amazing, star filled skies at night while surrounded by the sounds of monkeys and other forest animals before the jungle comes alive with birds at dawn.
"It's also a quieter, a more laid-back month before things start building up for the September celebrations and high season," she added.
Ms. Duran advised that, considering the significant savings, prospective guests should consider booking now to secure lodgings.
"When you consider what a free stay at Chaa Creek entails, that it covers so much more than just lodgings, you begin to realise why we expect this offer to be so popular," Ms. Duran said.
The Lodge at Chaa Creek is a multi award winning eco resort set within a 400-acre private nature reserve along the banks of the Macal River in Belize.