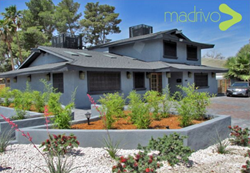 Madrivo is honored to be listed in the Green Business Guide and strives to inspire other companies and their employees to take part in the Clean Energy Project for the well-being of our environment.
Las Vegas, NV (PRWEB) June 01, 2016
The Green Business Guide was created to reward businesses that take the initiative to support the Clean Energy Project by participating in energy-efficient practices. In order for a company to earn a position on this prestigious list, they must meet specific and rigorous environmental guidelines. Madrivo was one of only eighteen marketing companies to complete the qualifying conditions for this honor.
Prior to moving into their current Las Vegas office location, Madrivo implemented a number of environmentally-friendly, global-minded design aspects when refurbishing their building. The walls of the office were fabricated from plaster and insulation made of organic materials, and, therefore, requiring less energy for climate control in order to maintain building temperature. The natural bamboo flooring has all been sustainably harvested and the energy-efficient roof is made from recycled materials.
Madrivo has also added solar screens to the many windows on their building, allowing for 80% natural light utilization as well as temperature optimization. Drought-tolerant bamboo was planted along the perimeter of Madrivo's building to provide a natural source of shade over employees' vehicles, which is especially necessary during the summer months when the temperatures reach triple digit highs. In addition to the energy-conserving features of the building's makeup, the employees further efforts by recycling waste, turning their electronics and office lights off at the end of the day, and keeping windows and doors shut when the air conditioning is running. All of these practices culminated into Madrivo's eventual recognition for being a sustainable, energy-efficient, eco-friendly business.
Valentin Shmidov, Madrivo's CFO, oversaw the office renovations in place today. He briefly shared about his inspiration for putting these changes in motion, saying, "Madrivo is a forward-thinking company founded on altruistic values. When planning out the renovations to our building, I wanted to come up with creative and unique methods for reflecting both the innovative edge of our brand and the benevolent mindset behind it." Although construction was completed almost two years ago, Madrivo has remained mindful of their carbon footprint, making conscious efforts to stay green and encouraging their counterparts to do the same.
Madrivo is honored to be a member of the Green Business Guide and strives to inspire other companies and their employees to take part in the Clean Energy Project. As more companies worldwide implement small changes to workplace routines that conserve energy and water and minimize waste, there will be a fundamental impact on the green initiative. The future is bright and protecting our environment is essential to everyone's well-being.