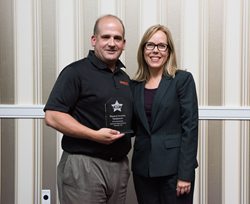 It is an honor to have our advanced engineering and attention to detail receive such expert recognition.
Hudson, Ohio (PRWEB) August 02, 2016
The B2 by Bearacade was recognized as BEST 2016 Physical Security Equipment at the recent Campus Safety Conference on July 25 at the Gaylord Hotel in National Harbor, Maryland. Campus Safety Magazine and CampusSafetyMagazine.com exclusively serve campus police chiefs, security directors, IT personnel, emergency managers, and executive administrators involved in the public safety and security of major hospitals, schools, and universities in the United States.
The featured product, B2, deploys quickly and easily on any interior, inward-swinging door in the event of a hostile intruder emergency lockdown to prevent the door from opening and protect occupants of a room until safety forces arrive.  Already in place in dozens of settings, the B2 is designed for commercial, institutional, government, medical, worship, and workplace settings.
As a BEST Award winner, Bearacade's B2 product will be highlighted in the October issue of Campus Safety Magazine as well as online.
"It was a great honor to stand alongside internationally known security companies and be selected as the best product in our category," noted Bill Cushwa, founder and CEO of National School Control Systems, LLC. "It is sobering to discuss the need for our products in so many locations both home and abroad, but it is an honor to have our advanced engineering and attention to detail receive such expert recognition. I want to thank Campus Safety Magazine for their constant focus on products, services, and best practices in keeping students, faculty, and staff safe."
For more information on how Bearacade can improve school safety and office safety, please call 855-350-2321, visit http://www.doorbearacade.com or email info(at)doorbearacade(dot)com.
About Bearacade® and B2™: Invented, developed, and manufactured in Ohio, Bearacade Lockdown Response Systems are designed to protect classrooms and offices during a hostile intruder or active shooter event when it is safer to take shelter than evacuate. Bearacade is the only device that conforms completely to Ohio House Bill 64, alerts administration and safety personnel, and allows for full code compliance on a daily basis.