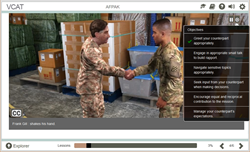 Enskill is the foundation of Alelo's ambitious expansion into non-government markets.
Los Angeles, California (PRWEB) August 16, 2016
Alelo announced today its Enskill Digital Learning Environment, a system designed to deliver highly effective, economic learning solutions to close the skills gap faced by today's workers who need both technical and interpersonal skills to thrive while automation increasingly eliminates routine jobs.
Technical skills are addressed through education and on-the-job training, but relatively few individuals receive effective training in interpersonal soft skills such as team leadership, negotiation, collaboration, sales, and customer service. For example, the U.S. Department of Defense has over 40,000 positions requiring foreign language skills, and 70% are filled by people who lack them.
Conventional learning methods are labor-intensive, ineffective, or both. Coaching is provided to relatively few individuals because it typically costs $250-$5000 per learner per month. Passive e-learning by videos and slides is inexpensive but ineffective because it does not give learners opportunities to practice and develop skills.
Alelo's digital-learning solutions provide highly effective skills learning and retention for less than $35 per learner per month. The Alelo learning method is based on immersive simulations of real-world situations and tasks where learners practice and explore alternatives in safe environments, building confidence and assuring long-term retention. The virtual role-play scenarios are built with advances in cognitive computing that include artificially intelligent virtual characters that challenge and motivate in game-like interactions that appeal to "digital natives". By playing different roles, learners develop an understanding of other people's perspectives. Unscripted dialogs between learners and the virtual role-players foster learning by pressing learners to think what to do and why, instead of choosing from multiple-choice prompts.
The Enskill Digital Learning Environment significantly improves the economics of developing and deploying courses that embody Alelo's virtual role-play method by letting organizations create, modify and deliver courses customized for their particular needs, and modify them as needed to reflect changing workplace needs and local market conditions.
Enskill includes the Builder, a cloud-based authoring system that exploits advances in artificial intelligence to accelerate and lower the cost of developing engaging, interactive learning experiences; and the Digital Learning Environment, a runtime platform to deploy Enskill courses and assess learner performance. The system's HTML5, device-agnostic architecture supports a range of devices and integration with third-party learning platforms, and automatically collects analytics of learner performance to facilitate performance monitoring and formative assessment. The complete solution scales to large numbers of learners yet is personalized to each learner.
Enskill's target customers are major course publishers, course-development studios, and in-house training organizations in both the corporate training and education sectors. Alelo has validated the demand for Enskill with several prospective corporate and education organizations, and training developers and consultants. Early-adopter customers include Laureate International Universities and the U.S. Department of Defence.
The first version of Enskill announced today supports cross-cultural role-play, and is being used in the company's forthcoming releases of its highly successful Virtual Cultural Awareness Trainer (VCAT) products. The next version of Enskill scheduled for the first quarter of 2017 will teach conversational skills using advanced speech recognition technology. Later in 2017 the company will deploy the Alelo Store, a marketplace and community forum where course developers will share content and learning assets, and offer competency certifications.
Dr. Lewis Johnson, CEO of Alelo, adds, "Our Enskill Digital Learning Environment embodies the new generation of our digital-learning methods and technologies that have successfully taught foreign language and cultural awareness to over 200,000 U.S., Australian and NATO forces prior to and during their deployment in 86 countries. Enskill is the foundation of our ambitious expansion into non-government markets."
ABOUT ALELO INC.
Alelo creates learning solutions that help people acquire new skills and apply them when it counts, changing the way people communicate. The company has been delivering virtual role-play solutions for learning communication skills using virtual role-play technology since 2003 when it spun out as a DARPA-funded research project from the University of Southern California. Over 200,000 U.S., Australian and NATO forces have trained to date with Alelo-created immersive, role-playing courses. Successes include the first Marine battalion to return from Iraq without any combat fatalities partially due to learning Arabic language and culture with an Alelo course. The U.S. Air Force Small Business Innovative Research (SBIR) program has recognized Alelo as a success story. alelo.com
Development of Enskill was funded in part by grants and contracts with the Office of Naval Research, the Defense Language and National Security Education Office, and the National Science Foundation.