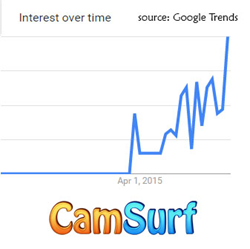 Our mission of creating a video messaging service that provides a fun and easy way to socialize has obviously struck a chord with many other people
Los Angeles, CA (PRWEB) September 07, 2016
In an age where socializing online is king, video messaging service Camsurf has experienced a huge surge in interest over the last month. In August 2016, the easy to use service attracted four million visitors worldwide, up from just under one million visitors in July 2016. Data from both Google Trends and Alexa display this swift upward momentum with a strong growth curve and the service entering the top 30,000 websites globally for the first time.
Many other data points regarding the service have also experienced a surge in the last month. According to Alexa, the bounce rate has decreased from 48% to just 16.60%, daily page views per visitor are up 53% to 4.13, and daily time on site is up 29% to 4:50. The growth isn't just limited to the web browser version of Camsurf, as the Camsurf Google Play app has experienced thousands of daily downloads, taking the total downloads to well over one million, leading to it being featuring in the Top 20 Free Social Apps in numerous countries.
"We are absolutely delighted to see such a rapid surge in growth for Camsurf in August", said Camsurf Co-Founder, Allen Fox, "Our mission of creating a video messaging service that provides a fun and easy way to socialize has obviously struck a chord with many other people."
Camsurf has made numerous changes to their service throughout 2016, beginning with the launch of a unique Safe Space campaign which is designed to stop cyberbullying through education and active participation. The service also launched their Google Play app this year, offering users the opportunity to socialize on the go in a safe and friendly environment. The attention gained from the release of Safe Space and the Android application gained attention from internet celebrities such as Stephen Kardynal, who made a hilarious viral parody video on the messaging service.
The rapid growth experienced by Camsurf is on par with the early growth of some now household names such as Facebook, Twitter, and Snapchat, which like Camsurf offered something different at the beginning. Camsurf's unique method of connecting users with people they don't know rather than connecting them with the same people they have on other social networks is quickly leading to the service becoming the next big thing in social communications.
About Camsurf
Camsurf is a free, easy to use video chat messenger service where people can use their webcam to make new friends, find love, learn a new language, or discover a new culture online. Camsurf offers a lightweight and simple video chat platform, the ability to filter users by country, and a free mobile app for chatting on the go. Camsurf makes a stand against cyberbullying and harassment through its Safe Space campaign.