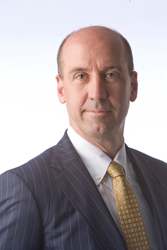 Big change is just ahead of us.
Minneapolis, MN (PRWEB) September 27, 2016
According to leading futurist Jack Uldrich, "Big change is just ahead of us." Think self-driving vehicles, renewable energy sources, drone deliveries from Amazon and precision gene editing. And those are just a few of the technological advances that are on the horizon that Uldrich discusses with his clients and audiences.
He speaks over 100 times a year and collaborates with clients in advance to deliver tailored remarks that will educate, entertain and inspire his audiences. He talks to many business industries and organizations, in particular on the transformation of health care, agriculture, energy, retail, education, and manufacturing.
In his presentations, keynotes and workshops Uldrich provide scenarios that spell out what the world may look like in just a few short years. He also helps his clients take an in-depth exploration of how the "Internet of Things" and robotics, gaming dynamics and artificial intelligence will change everyday life for all of us by the beginning of the next decade.
He is slated to speak about these trends and more at ten events around the US during the month of October.
Events include:
October 4, 2016, Catalyst Corporate Federal Credit Union Economic Forum 2016 • Dallas, TX
October 5, 2016, National Ocean Industries Association • Colorado Springs, CO
October 6, 2016, North Amercian State and Provincial Lotteries • Atlanta, GA
October 7, 2016, Power South • Destin, FL
October 10, 2016, Industrial Asset Management Council (IAMC) • Indianapolis, MN
October 12, 2016, City of Glendora • Glendora, CA
October 18, 2016, Michigan Health and Hospital Association • Lansing, MI
October 21, 2016, Dynamic • Philadelphia, PA
October 22, 2016, Segal Rogerscasey • Scottsdale, AZ
October 28, 2016, Daly Computers • Baltimore, MD
Parties interested in learning more about these events or Jack as a keynote speaker, he may be contacted here.