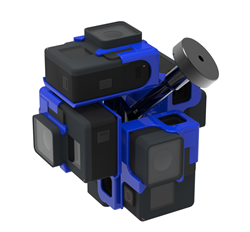 Our goal with creating the modular design was to keep our product line adaptable in this quickly evolving market.
Olean, NY (PRWEB) October 07, 2016
360RIZE, formerly 360Heros, announced a new product line of 360 video rigs supporting GoPro™ Hero5 Black cameras.
Specializing in 360 video solutions, 360RIZE creates camera systems that harness the power of third party cameras such as GoPro™, Blackmagic Design and Yi Technology to film spherical content and holds patents for multi-camera configurations.
In April at the 2016 NAB Show, 360RIZE introduced the world's first modular 360 Plug-n-Play™ rigs designed to house multiple GoPro™ cameras in a spherical orientation.
Designed with anodized aluminum cores and durable interchangeable injected molded polymer camera holding mechanisms, the design was intended to allow users to alternate between different cameras and configurations with the same center or base.
"Our goal with creating the modular design was to keep our product line adaptable in this quickly evolving market," said Michael Kintner, 360RIZE CEO and founder, in regard to the product announcement. "With camera technology advancing so rapidly, we want content creators to be able to keep their rigs up to date and to be able to create multiple configurations without having to start from scratch every year."
The 360RIZE product line of 360 Plug-n-Play™ Holders now offers support for the new GoPro™ Hero5, Hero4, Hero3+ and Hero3 series cameras. The company plans to debut the new product line in Q4 of 2016 with the products available for preorder before Christmas.
Upgrade kits will be available for existing customers wishing to convert their current v2 series 360 Plug-n-Play™ holders to add GoPro™ Hero5 compatibility with more details on the upgrade program to follow in Q4.
360RIZE will also be introducing a 360 video rig compatible with the GoPro™ Hero5 Session™ and Hero4 Session™ with the release date yet to be announced.
About 360RIZE:
360RIZE, formerly 360Heros, specializes in 360 video camera systems that capture professional quality spherical video content. 360RIZE also develops 360 video workflow solutions such as 360CamMan™, the world's first VR media management software. Through years of research and innovation, 360RIZE is empowering content creators to push the limits of this emerging technology and our ability to create immersive content.