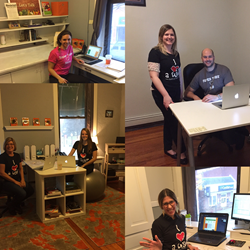 We've gone from getting comments like "who are you and they can't taste it, so who cares?" to --- "thank you for what you do and how can we get you on our formulary or covered by insurance? - Tony Bombacino, Co-Founder, Real Food Blends
Chesterton, IN (PRWEB) February 10, 2017
Real Food Blends, makers of 100% real food meals for people with feeding tubes, and the company that started a real food revolution in the medical community for people living with feeding tubes, proudly celebrates being a part of its fifth national Feeding Tube Awareness Week, February 6-10th. Feeding Tube Awareness Week® was created by the Feeding Tube Awareness Foundation, a 501(c)(3) non-profit organization, to increase awareness about people with feeding tubes and to positively change perceptions of tube feeding.
Real Food Blends is also thrilled to announce 2,100% revenue growth Jan. '17 over Jan. '14. This exponential growth has been fueled by the increased number of people who require a feeding tube (Feeding Tube Awareness has identified more than 300 conditions that can necessitate a feeding tube) and increased awareness of the benefits of whole food ingredients and nutritional variety for people with feeding tubes. In addition, the medical community continues to embrace Real Food Blends, with many insurance companies, home health care providers and doctors proactively recommending real food for tube-fed people of all ages.
"What started as a medical necessity for our son has sparked a real food revolution in the medical community that has touched tens of thousands worldwide," said Real Food Blends Co-Founder & CEO Julie Bombacino. Real Food Blends started after the Bombacino's young son failed to thrive while depending on many different traditional medical formulas for his nutrition, but once the Bombacinos began blending real food for him to eat, he almost immediately stopped vomiting, started growing and became a much happier child. Bombacino's son, AJ, is also officially known as the "Chief Inspiration Officer" at Real Food Blends. According to Bombacino, "we're grateful for our customers and for the advocacy and support of non-profits like Feeding Tube Awareness first as parents of a tube-fed child and also as a trusted resource for all of us at Real Food Blends in helping to continue to educate and improve lives through nutrition."
Also in its banner year, Real Food Blends recently launched their fourth meal option, Beef, Potatoes and Peas. Other meal options include Salmon, Oats and Squash; Orange Chicken, Carrots and Brown Rice and Quinoa, Kale and Hemp. Real Food Blends believes in offering a variety of food for complete health versus the same standard mixture or formula for every meal. This past summer, the company surpassed the major milestone of 1 million meals sold and expects to sell well beyond that many meals in 2017 alone. Real Food Blends was also recently selected as 1 of 10 companies to win the Chicago Innovation Award out of hundreds of entries for their work and innovation in the world of tube feeding nutrition.
"As both the father of a son with a feeding tube and the Co-Founder of Real Food Blends, it's hard to believe this is our 5th Feeding Tube Awareness Week", said Co-Founder & CMO Tony Bombacino. "We've gone from getting comments like "who are you and they can't taste it, so who cares?" to --- "thank you for what you do and how can we get you on our formulary or covered by insurance?". He went on to say, "It's incredible to see what passionate groups like Feeding Tube Awareness continue to do to educate and build tolerance and acceptance for all those living with a feeding tube. Chances are you know somebody that has a feeding tube (or are very likely to at some point) and this is a group you'll want to know." Bombacino also started a Special Needs Dads blog series last year to give a voice to this often under-represented group of caregivers.
Real Food Blends is now recommended by leading medical institutions such as The Cleveland Clinic, The Mayo Clinic and large Durable Medical Equipment (DMEs) and healthcare companies such as Medline, McKesson and Cardinal Health, who all have come to trust the team and brand. This list continues to grow in 2017 and the company remains excited for all that is to come in the year ahead.
ABOUT REAL FOOD BLENDS
Real Food Blends was born from Julie & Tony Bombacino's love for their own tube-fed son and a belief that we all deserve real food. The company makes 100% real food meals that are blended to go through feeding tubes. The meals are shelf stable, free of corn syrup and preservatives and are covered by many insurance plans. With over 1 Million meals sold in the United States and Canada, they are available nationwide through DMEs, medical supply and home healthcare companies or direct via RealFoodBlends.com and Amazon.com.
###