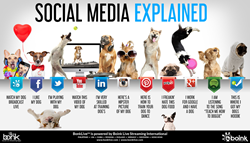 Boink Live Tm Powered by Boink Live streaming, is a steal at $5 dollars per share in the private company.
Hong Kong (PRWEB) February 18, 2017
Boink Live TM, powered by Boink Live Streaming has quantified their multi-billion dollar streaming application as a titanic mobile phenomenon for the new millennial. Boink Live Streaming, with offices in the United States of America, England, Dubai, the Philippines, Indonesia, Hong Kong, Germany, and Romania, is still a private company and not yet listed on any exchange.
Boink Live Streaming has been partially financed by Angel Investors and Pioneer shareholders, who have been only too happy to invest their money at 5.00 per share in the private company. Last week while in Singapore, major investment bankers stated that the company was way undervalued and much stronger then the competition.
On Feb 13, 2017 Boink Live Tm powered by Boink Live Streaming, announced on PRWEB, ABC News, Business Times, CNN.COM, CNEWS, Tech News, and Discovery Television http://www.prweb.com/releases/2017/02/prweb14064659.htm that Boink Live Streaming was announcing a multi-bllion dollar mobile application which would feature a 360-degree HD quality live broadcasting VIP tool, in addition to various other amazing features they would unveil to the world in April 2017.
The newest streaming application Boink Live Streaming, still a private company, is selling only 20 million shares at 5 to 10 dollars per share with 130 million tightly held.
One of the features Boink Live TM will be featuring is the world's first streaming ASAP debit and credit card to all of its online viewers and broadcasting streamers. The card will enable any mobile user the ability and ease to withdraw money via any ATM by exchanging their virtual money they earned while streaming into real money from the new Boink Live TM new mobile application. The broadcaster or the viewer will also be able to use their Boink Live card at any location bearing the MasterCard symbol.
Presently IDAP https://clutch.co/profile/idap-group located in, the United Kingdom in Edinburgh and Kyiv Ukraine are working together with Boink Live streaming for the application's final build out. The will begin beta testing as early as next week for the apple and android versions.
Boink Live TM, which is powered by Boink Live Streaming, is an international Cinderella story and will blast off with an earthquake of anxious streaming Broadcasters. The social media market has almost 4 billion users, with more then 2.3 active on social media daily. The company has built a one of a kind application that allows the advertisers to get to their target audience for a fee of $60 on the advertising carousal.
The board of directors, Angel Investors, and Pioneer shareholders of Boink Live Streaming will also share billions of dollars via the new Pay Per Push system. Not to mention the colossal money is made through Virtual Gift's, Commercial live announcements, and the video ad's being played by VIP hosts online. http://www.boinklive.com
All in all, Boink Live Tm Powered by Boink Live streaming, is a steal at $5 dollars per share in the private company. Nevertheless word has it on the street, you wont get any private stock for less then $10 bucks now that the application is ready to be launched. Boink Live TM is a super streaming application that will facilitate ATM banking and credit card services to any user using the application.
The question to ask is, what will the value of Boink Live Streaming be as a private company - and what will it be worth when it lists Boink Live TM to go public.
By comparison, SnapChat will list with an evaluation of 22 billion USD. (http://www.businessinsider.co.id/snapchats-evan-spiegel-and-bobby-murphy-to-sell-up-to-512-million-in-stock-2017-2/#CCVI4BeS6lyWjef4.97)
Boink Live TM is like having Live me, Bigo live, Facebook, Snapchat, and WhatsApp on steroids while broadcasting, selling, and advertising products worldwide. The steamers are broadcasting and making money while the viewer's watching the live broadcasters are taking offers to buy products. The advertiser is selling products on the carousal during the broadcast, while interested viewers buy the products they like that are being offered. All the while the broadcaster is using their talents online, receiving virtual gifts and virtual gold coins that can be redeemed for cash and withdrawn out through their local ATM. Not to mention, making money showing video's of company's selling products and reading ad's for advertisers while broadcasting online to their fans, whilst also being able to text there friend's or message them live or email or by calling them online while using the application.
Bonk Live TM will launch by April 2017.
This press release contains forward-looking information within the meaning of Section 27A of the Securities Act of the 1933 and Section 21E of the Securities Exchange Act of 1934, and is subject to the safe harbor created by those sections.