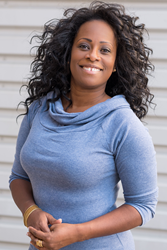 I want to enable SurveyGizmo to capitalize on their recent accomplishments and realize the full potential of their brand and audience as a platform. - Regine Smith
Boulder, Colorado (PRWEB) February 24, 2017
SurveyGizmo, industry leader in online data collection services and enterprise-grade survey software, has proudly named Regine Smith as the company's new Director of Marketing.
Regine brings over 12 years of expertise in technology, telecommunications and international markets to SurveyGizmo. Her main focus as the Director of Marketing is to leverage SurveyGizmo's well-poised position for growth and propel the company in its plans for massive expansion over the next several years.
"I want to enable SurveyGizmo to capitalize on their recent accomplishments and realize the full potential of their brand and audience as a platform," says Smith.
In addition to recently appointed COO, Nicole Craine, Regine's is the second high profile hire in recent months – a series of moves aimed at bringing seasoned experience and agility to SurveyGizmo's organization.
"We're bringing in Regine at an opportune time for SurveyGizmo," says Christian Vanek, CEO of SurveyGizmo. "Regine's insight and industry knowledge will help us elevate the SurveyGizmo brand, stimulate increased demand for our solutions, and drive revenue growth across our entire product portfolio. We are delighted to welcome her inspiration and leadership."
Prior to joining SurveyGizmo, Regine took time off from her career to volunteer with the Cavalry Chapel Haiti Initiative to assist in recovery operations in Haiti.
Regine is well recognized in her field for developing strategies that have accelerated growth, and for building such brands as Verizon and Microsoft.
With an M.B.A from Clark Atlanta University, Regine has held various senior positions. She has managed various aspects of marketing, including product marketing, field marketing, communications, partnership programs and vertical/solutions marketing.
In addition to creating a powerhouse marketing team at SurveyGizmo, Regine is an active board member of the Olive Tree Projects.
"SurveyGizmo has an outstanding culture of innovation excellence, and I'm excited to apply my expertise and leverage industry trends to drive revenue growth," says Smith. "I am tremendously impressed with SurveyGizmo's leadership team and its progressive business model."
The SurveyGizmo team is thrilled to have her on board.
About SurveyGizmo
Founded in 2006, SurveyGizmo is a powerful, online survey platform that empowers business professionals to make informed decisions. It provides survey software in over 205 countries, with 50,000 new surveys created and 7.5 million responses collected every week for customers like Fedex, Microsoft, Bloomberg Television, GE, and ESPN. SurveyGizmo is recognized as a leader in the survey industry for its innovation, service, and value.