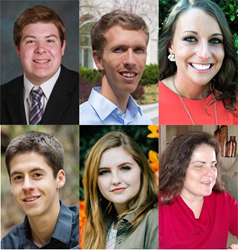 Winners are being recognized for scholastic excellence, exemplary leadership and service to others.
Denver, CO (PRWEB) April 05, 2017
Learning Ally, a national nonprofit serving individuals across the U.S. with visual, physical and learning disabilities, will honor six remarkable students and two outstanding teachers on April 7th at its 57th annual National Achievement Awards celebration in Denver.
Three high achievers are blind or visually impaired and three have learning disabilities like dyslexia. All are being recognized for scholastic excellence, exemplary leadership and service to others; and they have thrived in education with the help of accessible educational content and assistive technology that Learning Ally provides.
The following winners will receive cash awards and travel with their families to Denver, Colorado, where they will be honored at Learning Ally's National Achievement Awards Gala and participate in various school and community activities.
-Gregory Wurm is a sociology master's student at Brigham Young University in Provo Utah. Originally from Gilbert, Arizona, Greg has a visual impairment preventing his eyes from working together properly. Refusing to let his disability stop him from helping others, Greg served a two-year volunteer mission for his church in the inner city of Detroit, Michigan, speaking Spanish, which sparked his interest in sociology and helping others.
-Christian Calleja is a freshman at the University of Tennessee-Knoxville on the Pre-Med track. He is pursuing a degree in Microbiology with the goal of becoming a trauma surgeon. Christian has dyslexia and credits Learning Ally with helping him reach his full academic potential in the classroom as an auditory learner without appearing different from his peers.
-Kristin Barnes, a graduate student in Little Rock AK, was diagnosed with a visual impairment when she was eight years old. "I want to be a social worker to advocate for social justice and provide services and resources to those who are more vulnerable," she says. "As a person with a visual impairment, I aspire to help and encourage those who face similar challenges."
-Michael Sciarabba is a freshman at University of Colorado Boulder, pursuing a degree in mechanical engineering with dreams of working on space exploration. Michael was officially diagnosed with dyslexia in 6th grade and believes that dyslexia is a gift that allows him to think differently. In school, Michael has worked to educate his teachers, classmates and community about dyslexia and he has helped middle school students learn about self-advocacy.
-Tabitha Brecke graduated from Auburn University in 2016 with a Ph.D. in adult education. Tabitha has been blind since birth, uses a guide dog and is fluent with braille as well as audio technology. She currently works as an accommodation specialist in the Office of Accessibility at Auburn. Observing students achieve goals that they previously thought impossible is the aspect of her career that she enjoys the most.
-Sarah Beth Rogers is a freshman at Baylor University in Waco, Texas, majoring in communications. She was diagnosed with dyslexia in first grade and later diagnosed with ADHD. Sarah discovered Learning Ally in middle school, and says it totally changed the way she thought of reading. "Before, reading had been one of the most difficult and discouraging things I had to do," she says. Leaning Ally helped me read more quickly, understand the material, and showed me that with a little help, reading could be a fun and beautiful pastime."
Learning Ally will also continue its tradition of presenting National Achievement Awards to outstanding teachers. The Winslow Coyne Reitnouer Excellence in Teaching Award recognizes educators on the leading edge of best practices in the classroom for students with print and reading-based disabilities. The full announcement on these award winners can be viewed at this link.
About the National Achievement Awards (NAA)
Each year, Learning Ally honors three students in each of two categories of its National Achievement Awards. Blind or visually impaired college seniors and grad students are presented with the privately endowed Mary P. Oenslager Scholastic Achievement Awards (SAA). High school seniors with learning disabilities such as dyslexia are honored with the privately endowed Marion Huber Learning Through Listening® (LTL) Awards. Hundreds of students apply for these prestigious awards each year and are evaluated by committees of Learning Ally volunteers, board members, parents, educators, donors and staff. Learn more about Learning Ally's NAA events and winners at https://naa.learningally.org/.
About Learning Ally:
Founded in 1948, Learning Ally supports K-12, college and graduate students, veterans and lifelong learners – all of whom read and learn differently due to dyslexia, blindness or visual impairment, and other disabilities. The organization hosts live and virtual events for families and teachers; provides instructive webinars led by experts as well as peer-to-peer sessions led by students; and professional development workshops for educators. Learning Ally's collection of 82,000 human-narrated audio textbooks and literature titles can be downloaded by students using their smartphones and tablets, and is the largest of its kind in the world. As a 501(c)3 nonprofit, Learning Ally is funded by grants from state and local education programs, membership fees, and the generous contributions of individuals, foundations and corporations. For more information, visit http://LearningAlly.org