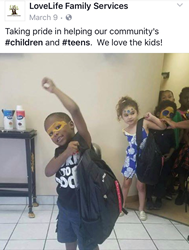 We feel that if we're taking care of our clients, we can go the extra mile to provide their children with a positive and well-rounded experience when they are not in school. It's one more way we can ensure we are doing the best for our families
Las Vegas, Nevada (PRWEB) April 11, 2017
LoveLife Family Services (LLFS) a behavioral health services provider, has seen a dramatic increase in the grades and performance of its young clients since creating separate programs focusing on their education. Children and teens at LLFS have reported a 50 percent increase in academics, based upon statistical reports in early 2017.
The youth participate in a multitude of educational skills, such as arts and crafts, educational movies, and develop Spanish and social skills through personal interaction.
The children have open access to computers and a variety of games such as, basketball, video games, traditional board games and more to keep them active. The youth have complete access to skilled and trained professionals, including counselors, social workers, and licensed doctors who are available to assist in every way. The youth also receive breakfast, lunch and dinner when present at the facility.
"We feel that if we're taking care of our clients, we can go the extra mile to provide their children with a positive and well-rounded experience when they are not in school. It's one more way we can ensure we are doing the best for our families," LLFS CEO added.
LLFS is creating a well-rounded experience for its young clients, providing them with summer camp, and planning trips during school breaks. This allows the children to join weekly trips to the movies, bowling, museums, parades, water parks and various recreational outings in the Las Vegas area. The youth have access to all amenities within the facility, such as grooming.
LLFS, a leading mental and behavioral health services provider, is an approved provider of Medicaid, which is a critical service for seniors and qualifying clients who have important health needs. LLFS welcomes all Medicaid applicants to apply for assistance. The company offers services to clients from ages 5 to 100. All services are free to qualified applicants.
For more information about LoveLife Family Services, visit http://www.LLFS.net or call 702-754-3484. LLFS is located at 3315 West Spring Mountain, Las Vegas, Nevada 89102.
Stay connected and follow LLFS on social media at Facebook https://www.facebook.com/lovelifefamilyservices/ and Twitter @LLFSLasVegas
For Media Inquiries and Interviews please contact YM & Associates PR | Marketing | Branding at YMoralesY(at)YM-PR(dot)com or call 949-244-9769.
Yvette Morales
YM & Associates
PR | Marketing | Branding
California | New York
Phone: 949.244.9769
Email: YMoralesY(at)YM-PR(dot)com