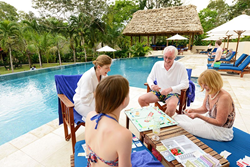 The Maple Leaf and Stars and Stripes will be flying around Belize
San Ignacio, Belize (PRWEB) June 21, 2017
Belize's shared history and close ties with her North American neighbours will once again be celebrated by The Lodge at Chaa Creek with barbecues and specially discounted Belize vacation packages offered throughout July 2017, the Belizean jungle lodge's marketing administrator said.
"Our northern neighbours have always been important to both Belize and Chaa Creek," Roberto Harrison said, "and once again this year we're acknowledging those relationships with a barbeque and free night's stay for Canadian and American citizens who book a four day stay during July 2017."
Mr Harrison said the celebrations begin with Canada Day in Belize on the first of July and continue through to the Fourth of July, with the discounted Belize vacation packages on offer throughout the month.
"Chaa Creek's month-long American Independence Day offer of 'pay for four and get the fifth night on us' has been popular in the past, and this year we wanted to make sure we included our Canadian friends in what is becoming an annual tradition," Mr Harrison said.
With a reputation as Belize's "Destination within a Destination" due to the extensive amenities, attractions and activities on offer within a private 400-acre nature reserve that contains over 70 ancient Maya sites, Chaa Creek's guests are completely cared for from the moment they are picked up at Belize's international airport until they are dropped back off, Mr Harrison explained.
Onsite attractions include a restaurant and lounge featuring farm-to-table dining with fresh ingredients from the Maya organic farm, an infinity pool, an internationally recognised Hilltop Spa, Natural History Museum, butterfly exhibit and an extensive network of trails for horseback riding, hiking and guided nature walks.
The July celebrations are also a time to reflect upon the special relationship, close ties and cultural similarities between all three nations, Mr Harrison said.
"We're all former British colonies who retain very warm, close ties to England. We share English as a common language, are vibrant melting pots based on multiculturalism and democracy, and are all committed to protecting our natural resources with huge national parks and protected wilderness areas and coastlines.
"And with continual upgrading and expansion of air services, including the recent direct Toronto to Belize flights, we're getting closer to each other all the time," he added.
Both Canada and the US are home to large numbers of Belizeans while Belize, a popular retirement destination, has seen a growth in US and Canadian expat communities over the years, fuelling the number of barbecues, parties and other celebrations seen across the nation in July, Mr Harrison said.
This year Canada is hosting a photo exhibition at the House of Culture in Belize City, according to Canada's High Commissioner to Belize, Deborah Chatsis, who said, "In 2017 we're celebrating Canada's one hundred and fiftieth anniversary of confederation. In order to celebrate that in Belize, we decided to bring this exhibit here..."
Karolina Guay of the Canadian High Commission pointed out similarities between Canada and Belize that include vibrant multiculturalism and a focus on environmental protection. "We're very keen on protecting the environment, which is another thing Belize does very well, " Ms Guay said.
Mr Harrison explained that, after saluting Canada at the start of the month, Chaa Creek will host its annual Fourth of July barbecue.
"Chaa Creek has been hosting Canada Day and American Independence Day dinners and barbecues for years, and it's a trend that I'm happy to see is growing. There's a lot of contact and goodwill between our countries, and it shows.
"The Maple Leaf and Stars and Stripes will be flying around Belize next to Belize's flag, and there will be plenty of barbecues and picnics with burgers, sausages, steaks, potato salads and all the trimmings.
"Of course, here at Chaa Creek we'll be serving North American-themed meals and drinks in the restaurant and lounge, which is an annual occurrence everyone looks forward to.
"It's always a great time and July is a great month to be here," Mr Harrison said.
Further information about Chaa Creek's Canada Day and Fourth of July vacations can be found by contacting travel agents or Chaa Creek directly, he added.
The Lodge at Chaa Creek is a multi-award winning eco resort set within a 400-acre private nature reserve along the banks of the Macal River in Belize. It was recognised by National Geographic with first place honours at the 2017 World Legacy Awards held in Berlin.
ENDS