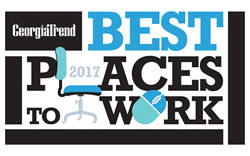 "This priceless accolade is especially rewarding because our employees made it possible," said Suzanne Hough, CHRO, Hodges-Mace.
Atlanta, GA (PRWEB) July 12, 2017
Benefits delivery innovator, Hodges-Mace, LLC, has been named one of the 2017 Best Places to Work in Georgia, a list created by Georgia Trend, the Society for Human Resource Management (SHRM) – Georgia State Council, and Best Companies Group. Based 100% on employee feedback, this is the second consecutive year the firm has been named to this distinguished annual list. Hodges-Mace is featured in the July 2017 issue of Georgia Trend along with the other winners.
A total of 20 total companies were chosen this year, with Hodges-Mace being selected in the large employer category (companies with over 200 U.S. employees). Best Companies Group issued the employee surveys in January. Over 70% of all Hodges-Mace employees volunteered to take the survey. Many cited their appreciation of working for a company that stands by their core values and supports employee volunteer work.
Founded by benefits veterans Greg Hodges and Peter Mace, Hodges-Mace provides employee benefit management solutions and services to clients across the U.S. Since its founding in 2004, the firm has experienced consistent growth and has continued to thrive after the acquisitions of ContinuousHealth and SmartBen in 2014.
"Being recognized as one of the Best Places to Work in Georgia for two years in a row is a powerful recruiting and retention tool," notes Hodges-Mace Chief Human Resources Officer, Suzanne Hough. "This priceless accolade is especially rewarding because our employees made it possible."
Over the years, Hodges-Mace has built a strong corporate culture based on teamwork and giving back to the community. Last year, the company celebrated its inaugural Summer of Service where employees volunteered 500 hours to local organizations such as Meals on Wheels Atlanta, Camp Twin Lakes, Atlanta Community Food Bank and Books for Africa. The celebration culminated with Hodges-Mace's annual Bowling for Dollars family fundraising event where they raised over $20K for eight Atlanta charities including Georgia Special Olympics, Atlanta Youth Academy and Children's Healthcare of Atlanta. The company's 2017 Summer of Service initiatives are currently underway and will conclude again with the annual Bowling for Dollars charity event in August.
Last year was a record year for Hodges-Mace in terms of employee and revenue growth and the company is on track to have another banner year. With 250 employees to date, the company anticipates adding another 100 – 150 jobs by 2020. To accommodate this growth, Hodges-Mace will relocate to expanded headquarters in Lakeside Office Park scheduled for January 2018.
"We are a service-based business, and our success is directly attributed to our standout employees," notes Co-CEO Greg Hodges. "Being named one of the Best Places to Work in Georgia again this year validates our business model and corporate culture are in sync."
Co-CEO, Peter Mace concurs. "Hodges-Mace has always been more than a place to collect a paycheck. We are a family and attract people who thrive in a team environment and enjoy giving back, both inside and outside of work."
Award Criteria
The survey and awards program honors the best employers in Georgia, benefiting the region's economy, workforce and businesses. The 2017 list is made up of 20 companies.
Companies from across the state entered the two-part survey process to determine the 2017 Best Places to Work in Georgia. The first part consisted of the employer questionnaire, evaluating each nominated company's workplace policies, practices, and demographics. This part of the process was worth approximately 25% of the total evaluation. The second part consisted of an employee survey to measure the employee experience in eight core areas: leadership and planning, corporate culture and communications, role satisfaction, work environment, relationship with supervisor, training, development and resources, pay and benefits, and overall engagement. This part of the process was worth approximately 75% of the total evaluation. The combined scores determined the top companies and the final ranking. Best Companies Group managed the overall registration and survey process in Georgia, analyzed the data and determined the final rankings.
To be considered for participation, companies had to fulfill the following eligibility requirements:

Be a for-profit, not-for-profit business or government entity
Be a publicly or privately held business
Have a facility in the state of Georgia
Have a minimum of 15 employees working in Georgia
Be in business a minimum of 1 year.
For more information on the Best Places to Work in Georgia program, visit http://www.BestPlacesToWorkGA.com.
About Hodges-Mace
Headquartered in Atlanta, Georgia, Hodges-Mace, LLC is a leading provider of benefit management software and services. Their portfolio ranges from small-to-mid-size companies and Fortune 500 enterprises in a variety of industries, including education, energy, gaming, financial services, healthcare, manufacturing, and retail. Hodges-Mace is a respected leader in the employee benefits industry and is dedicated to helping employees and employers make smarter benefits decisions through a blend of innovative technologies and intelligent service solutions. The company is one of the 2016 Best Companies to Work for in Georgia. For additional information visit http://www.hodgesmace.com.