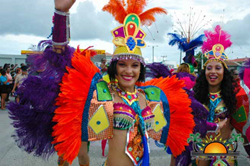 we developed in a way that became attractive to today's tourists
San Ignacio, Belize (PRWEB) September 13, 2017
The Lodge at Chaa Creek is throwing a double thirty-sixth birthday party this month - celebrating its official opening as Belize's first eco-resort just as the little country achieved independence from Great Britain on September 21, 1981, according to the popular jungle lodge's owners.
Mick and Lucy Fleming, who had established a small farm on the banks of the Macal River, were already known on the "coconut telegraph" for their hospitality after several years of welcoming travellers with a place to sleep and plate of rice and beans back when accommodations were in short supply in Belize's west.
The Flemings had just built their first simple one room, thatched roof cabin out of jungle materials when Belize finally achieved independence after years of life as a British Crown Colony known as British Honduras.
The timing couldn't have been better for both Belize and Chaa Creek as word caught on around the world that a little country with vast pristine jungles, an abundance of ancient Maya temples and monuments, the world's second largest barrier reef and the Caribbean's most unspoiled beaches was just waiting to be discovered.
Lucy Fleming recalls the heady days of September 1981.
"It was such an exciting time. There was jubilation throughout the country, as well as a bit of trepidation. I think it was the national equivalent of leaving your parent's home for the first time, this exciting feeling of freedom mixed with the reality of suddenly needing to make your own way in the world, of being responsible for your own future.
"But as usually happens when put to the test, Belize came through with flying colours. We built a national tourism industry from the ground up, and did it cooperatively with the belief that tourism should contribute to protecting the environment and supporting local communities. The new government and the private sector worked together to realise this vision we all had, and now, thirty-six years later, we're still celebrating with the same enthusiasm," Ms Fleming said.
That enthusiasm is on display throughout the entire month of September in Belize, with a full calendar of pageants, parades, official functions and barbecues to rival the Fourth of July in the United States.
In fact, with English as Belize's official language, the currency pegged two-to-one to the US dollar that is gladly accepted everywhere, and many similarities between both multicultural melting pots, American feel right at home in Belize, with a fair number travelling down to take part in the festivities.
The official party begins on September 10th, a national bank holiday known as St George's Caye Day that commemorates a battle seen as Belize's first big step on the road to nationhood.
From September 3 to 10, 1798, a small seagoing militia comprised of mostly English settlers, slaves, pirates, loggers, boat builders and assorted immigrants banded together to confront a much larger professional Spanish military force sent to claim the land in the name of the Spanish crown.
Invaders and defenders met on what is today known as the Belize Great Barrier Reef near the tiny island of St George's Caye and, against impressive odds, the nascent Belizeans defeated and repelled the Spanish naval force on the 10th. The action is considered today to be one of history's greatest military successes, and the battle cry to stand "shoulder to shoulder" still reverberates in Belize today.
Importantly, the Battle of St George's Caye created a strong feeling of national identity that, after years as a protectorate, and then a colony, led to the rise of trade unionism, adult suffrage, home rule and finally, on September 21, 1981, national sovereignty and a welcome into the United Nations as a fully independent nation.
"Belize was very much a developing nation subsisting on small scale agriculture and fishing," Ms Fleming remembered, "At Chaa Creek we, like most of our neighbours, grew what we could and took our produce down the Macal River in dugout canoes to sell in the Saturday markets in San Ignacio to return upriver with sugar, flour, kerosene and other necessities.
"After Independence, more and more travellers began arriving, liked what they saw, and, lacking name recognition or any marketing budget to speak of, positive word of mouth began driving our emerging tourism industry. And by remaining committed to what is today called sustainable tourism, we developed in a way that became attractive to today's tourists and beneficial to the land and the people.
"To understand Belize's development, and how far we've come in such a relatively short period of time, is to understand why the September celebrations are so important and celebrated so enthusiastically," she explained.
Today Belize is one of the world's most popular tourism destinations and The Lodge at Chaa Creek has grown from a few simple cabins to offering a range of accommodations that include the luxurious Ix Chel rainforest villas with private plunge pools, Jacuzzis and personal butlers, as well as suites that have accommodated guests including celebrity musicians, actors, a member of England's royal family and many others.
Set within a 400-acre private nature reserve, Chaa Creek offers amenities such as a restaurant featuring elegant farm-to-table dining, an internationally recognised Spa, infinity pool, onsite museum and butterfly farm, and activities that include horseback riding, canoeing, guided nature walks, jungle and river safaris and more.
And in keeping with a long held commitment to sustainable tourism, ten percent of all room revenue at Chaa Creek goes directly into environmental and community projects and programs under the "Chaa Creek Cares" initiative.
The Flemings say this commitment to responsible tourism, which has resulted in an impressive number of awards and global recognition, is what gives them the most satisfaction.
"There are as many definitions of success as there are people, but what continues to drive us, and Belize, is the satisfaction that we're all working together to contribute to our country's economic, environmental and social future.
"It's been a great success and a very good reason to celebrate every September," Ms Fleming said.
The Lodge at Chaa Creek is a multi-award winning eco resort set within a 400-acre private nature reserve along the banks of the Macal River in Belize. It was recognised by National Geographic with first place honours at the 2017 World Legacy Awards held in Berlin.
ENDS