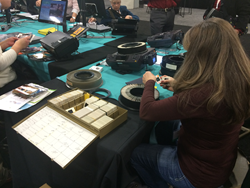 "This is the first event of the year-long 'Digitize Your Family Photos' program and it is going to be bigger than ever" - Richard "Rick" Lippert, president, E-Z Photo Scan.
Altamonte Springs, Fla. (PRWEB) January 17, 2017
E-Z Photo Scan, the leading marketer and rental agent of desktop photo-scanning systems, announced RootsTech attendees personally scan their prints and slides for free during the event, Feb. 8-11, 2017, in Salt Lake City. This is the first event in the company's year-long program to 'Make 2017 the Year to Digitize Your Family Photos,' encouraging all families to make their family histories digital.
To participate, RootsTech attendees can bring any quantity of photo prints, scrapbook pages and slides to expo booth #1111 during exhibit hours Tuesday-Friday. Attendees will have the chance to use professional-grade, high-speed scanners to digitize family memories, without having those treasured photos leave their possession. To make image storage easy and simple, E-Z Photo Scan will make photos available after the event. Also, on Saturday, E-Z Photo Scan is part of the interactive activities of Family Discovery Day. This year, E-Z Photo Scan expects to eclipse a combined total of 250,000 family photos scanned from its three RootsTech appearances.
"This first event of the year-long 'Digitize Your Family Photos' program is going to be bigger than ever," says Richard "Rick" Lippert, president, E-Z Photo Scan. "We are bringing lots of professional Kodak Picture Saver Scanners, SlideSnap 35mm slide scanners, and the brand new SlideSnap X1 auto-slide scanner. Plus, we are working with Scannx in introducing the very latest Zeutschel Scanners powered by Scannx Software for digitization of modern or historical books, manuscripts, or other cultural heritage.
"We are also encouraging all RootsTech attendees to bring family history books for scanning at the neighboring FamilySearch booth," adds Lippert.
"At RootsTech, FamilySearch will have a separate book-scanning booth, across from E-Z Photo Scan," says Dennis Meldrum, Manager, Book Scanning Operations at FamilySearch. "We will scan personal history books at the conference and make them available on at books.familysearch.org website within a week. There are currently 320,000 books on the site, and hope to add 300 more at RootsTech."
E-Z Photo Scan will also offer free consultations with professional personal photo organizers.
"RootsTech attendees understand the value of pictures and realize the importance of family treasures in the form of photographs," says Kathy Craig, of Memories Managed, a certified member of the Association of Personal Photo Organizers (APPO) based in Columbia, S.C. "They come with hearts full of family and enjoy their pictures."
RootsTech attendees will also be able to take advantage of sale prices on photo-scanning equipment, story patches from Stkr.It (while supplies last), and a chance to win one of three free week-long rentals of either a photo scanner or a slide scanner.
For information about attending RootsTech, visit http://www.rootstech.org
About E-Z Photo Scan
Founded in 1995, E-Z Photo Scan has worked with many community centers, historical societies, museums, and individuals to help them organize and preserve their photos and documents. Their team has long recognized the need for photo organization and management service providers, having seen individuals who find digitizing photographic archives to be a daunting, expensive and time-consuming task. It was awarded Kodak Picture Saver Scanning Systems Global Value-Added Re-Seller Leader of the Year.
About RootsTech
RootsTech is a global family history event, where people of all ages learn to discover, share, and celebrate their family connections across generations through technology. At RootsTech, there is something for everyone, no matter your experience in family history or your skill level in technology. RootsTech will be held on Feb. 8-11, 2017, at the Salt Palace Convention Center in Salt Lake City, Utah. Innovator Summit will be held on Feb. 8 2017, also at the Salt Palace.