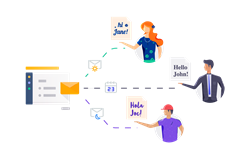 Sales Campaigns is perfect for inbound and outbound sales emails. We have the flexibility to choose between Classic or Smart campaigns. With website and in-app tracking integrated, Freshsales doubles as a powerful CRM and marketing software
SAN BRUNO, Calif. (PRWEB) February 07, 2018
Freshworks, the leading provider of cloud-based business software, today announced the launch of Sales Campaigns, a game-changer inside Freshsales—their successful CRM product launched in 2016. The new feature provides smart functionalities for sales teams to start meaningful conversations with their customers. All this, without having to juggle multiple tools outside of Freshsales CRM.
Freshsales CRM has garnered a loyal user base of over 9000 customers since launch by virtue of its powerful yet user-friendly features, simple and highly intuitive UI, and its ability to scale with growing sales teams. Features like AI-based lead scoring, built-in phone and email, visual sales pipeline, activity capture and powerful reporting have helped businesses scale and optimize their sales processes. In 2017, the product also added Intelligent Workflows to powerhouse of features—a simple point-and-click interface to help set up and run virtually any sales process through a series of workflow automations. Freshsales CRM is also ranked as one of the top CRMs for Small Business by G2 Crowd.
With over 200 billion emails sent every day, 44% of millennials are likely to disengage with brands on account of spam. This has deeper implications like decreased brand value and engagement, and increased customer acquisition costs. Sales Campaigns on the other hand, acts based on data inside a CRM. This means, users can choose between a Classic time-based campaign or a Smart activity-based campaigns to:

add or eject prospects based on their intent—where they are in your sales funnel.
start smart conversations based customer activity inside your product or website.
track all email or engagement metrics inside the CRM.
"With billions of emails being sent each day, the only way you're going to stand out in that clutter is if you send the right email with the right message at the right time to the right person. Sales Campaigns in Freshsales helps you do that." said Srivatsan Venkatesan, Head of Product, Freshsales. "Think of it like a personal assistant to schedule your email campaigns and calls, set up appointments, and streamline hand-offs between SDRs and AEs."
"Sales Campaigns is perfect for inbound and outbound sales emails. We have the flexibility to choose between Classic or Smart campaigns. With website and in-app tracking integrated, Freshsales doubles as a powerful CRM and marketing software," said Juan Quirós Carmona, CEO at Crowdence. "In short, the number of prospects an agent can handle increases significantly—more possibilities at lower costs."
Availability
Sales Campaigns in Freshsales is available immediately, and new users can sign up for a free, 30-day trial to evaluate the software. Sales Campaigns is available on the Blossom, Garden, Estate, and Forest plans.
About Freshsales
Freshsales is an intuitive, easy-to-use CRM for sales teams of all sizes. Freshsales CRM has a loyal user base of over 9000 customers from 50+ countries. Features like AI-based lead scoring, built-in phone and email, visual sales pipeline, activity capture, workflows automations, and powerful reporting have helped businesses of all sizes scale and optimize their sales processes.
About Freshworks
Freshworks Inc. is the parent company behind the suite of products which includes Freshdesk, Freshservice, Freshsales, Freshcaller, Freshteam, Freshchat, and Freshmarketer. The company's suite of products is designed to work tightly together to increase collaboration and help teams better connect and communicate with their customers and co-workers. Founded in October 2010, Freshworks Inc. is backed by Accel, Tiger Global Management, CapitalG, and Sequoia Capital India. Freshworks has its HQ in San Bruno, California and global offices in India, UK, Australia, and Germany. The company's cloud-based suite of SaaS products is widely used by over 130,000 customers around the world including Honda, Bridgestone, Hugo Boss, University of Pennsylvania, Toshiba and Cisco.