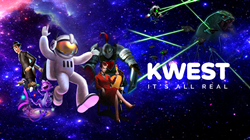 Kwest today announced that their developing Augmented Reality platform is planned for release by end of 2019 and is going to be supported by a Kickstarter campaign launching on May 2nd, 2019 at www.kwest.app/kickstarter
DALLAS (PRWEB) May 01, 2019
Kwest today announced that their developing Augmented Reality platform is planned for release by end of 2019 and is going to be supported by a Kickstarter campaign launching on May 2nd, 2019 at http://www.kwest.app/kickstarter
To celebrate the launch, they will be hosting an all-day Livestream event with guests and special events from 8am EST - Midnight at http://www.twitch.tv/kwestapp
The Android and iOS compatible AR game had a successful Closed Demo Release, with more than 1500 downloads in 1 month, and more than 80% of users giving it 4 or 5 star ratings.
The Kwest team is focused on building a new Transmedia Storytelling Platform, aiming to be the first AR storytelling experience at scale.
Omeed Shams, Kwest Founder & CMO explains: "Our aim is to work with as many entertainment partners as possible. Throughout our journey thus far, we have had conversations with brands such as Nickelodeon, Netflix & HBO - all expressing interest in our vision and seeing it completed. For now our focus is on taking Kwest to market and scaling the team and product in 2019 / 2020."
Until this point, Kwest has been 100% bootstrapped without taking any outside capital. While Kwest could go to market without funding, the success of a trans-media platform is based on entering the space first and with the best offering possible.
Kwest is a Location Based, Augmented Reality storytelling game - immersing users in real-world exploration via episodic narrative adventures.
Users will be able to play in their favorite story worlds (from their favorite books, TV, shows, movies, etc.) as the main character in an interactive narrative adventure - with their city as the setting. Compelling narrative is delivered through voice, music, and sound effects. Players make choices that mold their own unique outcomes. And characters in each story are brought to life in their city streets, through the lens of augmented reality.
Players can sign up to stay in the know about Kwest and the Kickstarter campaign launch by signing up for the Beta Experience newsletter at http://www.kwest.app. Info can also be found on social media at @KwestApp on Twitter, Facebook, & Instagram.
Kwest is leveraging technical innovation to work with multiple content creators and media markets to encourage faster adoption of AR overall, moving the industry forward.
With Kwest, everyone can discover… It's All Real.
###
For additional information contact Omeed Shams (CEO), at 214-205-6767 or omeed@kwest.app
Press Kit: https://drive.google.com/open?id=15n-F5uOBr4uPb8fCvPdkTynj2-f7PN_p