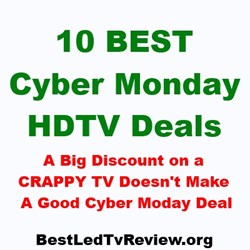 Avoid low-quality TVs this holiday shopping season.
Los Angeles, CA (PRWEB) December 01, 2013
Even before Black Friday was officially over, LED TV Deals have been announced for Monday, December 2nd, the biggest online-shopping day of the year. 2013 Cyber Monday TV Deals have been announced by online giants for sizes ranging from 32 inches to 55 inches and beyond. However, only a handful of these TVs can be recommended for various reasons. Low-quality flat screen TVs are known to have numerous technical problems and it's important to weed out these models when shopping for Cyber week HDTV deals.
Click here for the TOP 10 Recommended Cyber Week TV Deals.
http://BestLedTvReview.org/Best-Holiday-Deals/ emphasizes that just because a sub-par TV gets a 50% discount, that doesn't make it a good Cyber Week Deal. For example, most of the popular Black Friday HDTV sales were from not so well-known brands like Funai, Magnavox, Seiki, Element, oCosmo and Apex. The only reason they were popular was because they were cheap. The average American watches approximately 5 hours of TV every day and buying a sub-par TV just to save a couple of hundred dollars cannot be justified.
Technical problems associated with poor-quality TVs explained:
LCD panels are generally brighter than plasma TVs. However, this is not true with certain poor-quality models. The problem with relatively dim LED TVs is that during day time, if there's a lot of sunlight coming in to the TV room, images cannot be clearly seen. However, modern LED TVs from well-known manufacturers don't have this problem. Another defect of certain cheap LED TVs is the lack of uniformity of light. In order to make the panels slim, manufacturers have limited the LED bulbs to the edge of the panel. If transmission of the light is not properly regulated, the edges look brighter while the center looks dim. These TVs should also be avoided no matter how big the discount is. Another problem relates to poor color contrast. LED TVs generally don't have a problem in producing bright whites, however, they are not as good at producing deep blacks. To be able to enjoy the 720p and 1080p high definition technology available today, it's important that one selects a HDTV that doesn't have the above problems.
The online giants Best Buy, Walmart and Tiger Direct have announced Cyber Monday TV sales on popular brands like Samsung, LG, and Panasonic as well as not so well-known brands like Insignia. While most of them have a 1080p HD resolution, others only have 720p HD resolution. A common observation is that many of the LED TVs on sale this week happen to have a refresh rate of 60 Hz. Even TV manufacturers like Samsung have recognized that televisions with low refresh rates like 60 Hz are only good for 'general viewing' and not for viewing fast moving frames such as those observed during sports, video games and certain movies. Although rare, with low refresh rates, there can be a lag/delay, commonly known as motion blur, when viewing dynamic and complex moving images. Generally, a refresh rate of 120 Hz is recommended for watching fast moving picture frames such as those seen in football and car racing. This is why consumers have to be aware of the minimum recommended tech specs before buying a flat screen TV this holiday season.
In addition to reviewing the best Cyber Monday holiday HDTV deals, they also discuss in detail, the ideal tech specs to look for in a TV. It is a recommended read for Cyber week deal hunters as well as anyone planning to buy an HDTV in the near future.