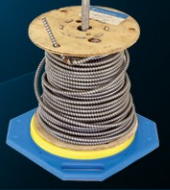 A superior reel holder product is now available to utilize on any job site.
Slave Lake, AB (PRWEB) May 27, 2014
Tug-Wise Manufacturing Inc., a canadian cable management system manufacturer, designed, and now can custom build, their revolutionary wire management system. They offer their customers job specific built cable reel stands to cater to every demand for any job. These are high quality products that can perform at many requirement levels. The models range from a stand that holds a maximum of 500lbs to a reel holder that can handle 6,000lbs and more.
Jim Emes, owner of Tug-Wise, compiled more than thirty years of knowledge as an electrician to design a cable management system that will replace standard jack stands. After many years in the field, Jim was dissatisfied with the inadequate qualities of the jack stands he had been using. He knew there had to be a better and safer way to manage cables, so he focused on the task to create a product that combined the two elements. These cable reel stands apply a simple and highly effective design that offers an easy solution to solve any wire management system concerns.
This product is designed with a one man operation in mind, even when using the new custom built heavy duty models; while managing a standard jack stand requires at least 2 people. Tug-Wise has designed a simple and effective product that will save time, effort, and money; and now with custom built orders it can handle any size job.These products bring more value for all cable reel holder applications. It allows you to get the job done quicker while assuring safety for anyone using it because the product is easily mounted to the bottom of any wooden or plastic reel for trouble-free cable pulls. The cable reel stands can thread a removable stem into the base and be stood upright to allow for a seamless 360° pull.
This wire management system gives electricians everywhere a simplified and superior piece of equipment to decrease their labor efforts and costs when running cables. On any job site running wire is often difficult work and requires a lot of time to organize a jack stand, often times multiple jacks. The Tug-Wise cable management system allows a single person to run wire safely when on the job site, and this product has the added versatility value that it can be used in any weather condition. These cable reel stands are helping to reduce back-breaking heavy lifts because of the unique design that can now be custom built for any job demand.
Tug-wise customers were looking for more, and the team at Tug-wise has brought it to them by offering a custom designed and built wire management system that will support the demands of every heavy duty job.
Related News:

Related Search Phrases:
[Tug-Wise Manufacturing] [Cable Management System] [Cable Reel Holder] [Wire Management System] [Breaking News] [Slave Lake, AB News] [Jack Stands]
Related Hashtags:
#Cable #Wires #Electricians #Management #SlaveLake #Alberta #TugWise #BreakingNews
Tug-Wise Manufacturing Inc. is a Canadian company. They can be contacted via their website: http://www.tug-wise.com or by phone: 1-866-924-WISE (9473).