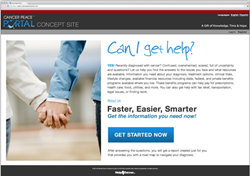 One of the most important websites in years, a real game changer for cancer patients looking for guidance and reassurance - Sue Sumpter, Senior Manager of the Leukemia and Lymphoma Society
Vancouver, WA (PRWEB) March 26, 2014
On March 26th Help4Cancer.net launches a crowd funding campaign to raise awareness and $239,000 for its new Cancer Peace Portal.
Cancer Peace Portal is a one of a kind multi-faceted strategy to offer cancer patients and those who support them a central resource for information, hope, peace and better living strategies.
Sue Sumpter, Senior Manager of the Leukemia and Lymphoma Society calls Cancer Peace Portal, "one of the most important websites in years, a real game changer for cancer patients looking for guidance and reassurance."
Help4Cancer.net was born out of frustration when founder Mark Burright had such a hard time finding information after his father was diagnosed with cancer. "After spending hundreds of hours poring over pages of links and articles, I was overwhelmed and exhausted. I had no idea how I was going to sort things out and organize all this information. There had to be a better way, I thought." Burright says. This 'better way' is Help4Cancer.net's Cancer Peace Portal.
Susan Hedlund, Patient and Family Services Manager at Oregon Health Science's Knight Cancer Institute stated that the concept is way overdue. "Cancer Peace Portal will not only serve the patient community directly, but will serve social workers and other health care professionals by providing needed information quickly and easily."
The only resource of its kind, Cancer Peace Portal will quickly become the "go-to" information hub for cancer patients, family members as well as a resource for community agencies, tribal centers, and faith based organizations. This resource will be comprehensive, continually updated and available to the public free of charge. Today, there are more than a billion cancer pages online.
While most are well intentioned, none begin with the patient. None of them personalize the information they serve up. Some have bad or obsolete information. Some are out to prey on people fighting for their lives. Fewer still can offer the hope a patient needs and the support they deserve.
Cancer Peace Portal will sort through the plethora of information to enable millions of people to quickly get to what matters most in their situation based on the type of cancer, their location, their financial profile and health condition.
Dr. Ken Weizer, a cancer survivor, has clinics at the Providence Cancer Center and Providence St. Vincent's Hospital in Portland, Oregon. He says, "the site will create a place to gather thoughts, hearts and minds and share the stories of our cancer dances that bind us together and make us laugh and cry."
About Help4Cancer.net
Help4Cancer.net exists to help cancer patients, survivors and those who serve, love and care for them.Help4Cancer.net is a federally registered 501(C)3 non-profit that was founded in March of 2012 to equip the cancer community by providing charitable multimedia services for people affected by cancer and those serving the cancer community.
Related News:
NPO, Help4Cancer.Net Launches Cancer Peace Radio™ Brings Real People, Real Stories, and Real Experts That Talk About Life with Cancer
NPO, Help4Cancer.Net Launches New Website to Provide All-In-One Cancer Resources Directory