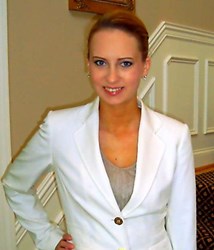 "I decided I wanted to beat this system, even though I was a small town student with modest means..."
Washington DC (PRWEB) September 14, 2013
After three years of hard work Ashley Baker, CEO of Civica Global Admissions Consulting, has used her experiences to better the lives of high school students.
As a high school student in Gastonia North Carolina, Ashley Baker didn't think she could go to college.
Years later she found herself as a member of the Duke University Class of 2012. She is now using her experience and expertise to fuel a college admissions consulting business.
Baker started working on Civica Global Admissions Consulting during May 2011. The now well-established company aims to help students get in to college, find money to pay for it, and home skills to succeed once they get to campus.
Baker, a former journalist and banker, is the Founder and CEO. The Civica team also consists of a Harvard Business School Student, a Yale Law School student, many Duke graduates, and several Oxford graduates. The business is based in Washington, D.C. but also has headquarters in Annapolis, Raleigh, San Antonio, and, more recently, London. Civica has additional consultants in New Dehli and Toronto.
Back in 2008, Baker planned a visit to Duke University because it was an excused absence from her high school, a way for the senior to get out of class.
But Duke wasn't the kind of place Baker could pass through so casually.
"I fell in love with the university," she says. "It was the academic culture more than anything."
Baker knew then that she wanted to be in college. And she wanted to be at Duke, a school that accepts about 1,600 of it's annual 25,000 applicants.
That was late in 2007, right before Thanksgiving vacation. So the A-B student had her work cut out for her.
Neither of her parents had been to college. The $60,000 she would need was a daunting amount.
"I decided I wanted to beat this system, even though I was a small town student with modest means," Baker said.
A standout college essay helped give Baker an edge. And she leveraged her ROTC contacts to get to know people at Duke and on other campuses.
In the end, Baker was accepted to Duke, Cornell, the U.S. Naval Academy, and the Georgetown School of Foreign Service.
Baker also landed an ROTC scholarship, worth over $250,000. After an injury disqualified her from military service, she found other grants and scholarships -- and was so successful funding her college career that she managed to study in Berlin and Oxford.
Civica counsels students on finding the best college match, working one-on-one to help establish goals and find strategies to make students attractive to admissions committees.
Services range from the expected -- such as essay and personal statement advice, SAT and ACT overviews and interview preparation -- to the atypical. Think individual strategies for each school, networking with the university system and evaluating admissions offers. Course and career management plans are also on the menu of services.
Additionally, for every 20 hours consultants spend with students paying the regular rate, the business donates one hour to working with disabled students.
"Duke was amazing for me," Baker said. "I really would like to see a lot of students have the same opportunity."
In order to receive the same opportunities as Ms. Baker following the 2013 application season, please contact one of our consultants.
Visit http://www.civicaglobal.com for more information.