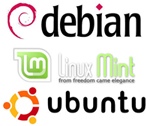 Debian vs Ubuntu vs Mint
(PRWEB) April 02, 2014
Threehosts.com compares the top 7 Linux Operating Systems, including Debian, Ubuntu and Mint. The detailed comparison is available at http://www.threehosts.com/ratings/comparison-software/linux-vs-ubuntu-vs-centos-fedora-vs-debian-vs-red-hat-vs-open-suse-vs-mint.html.
Ubuntu is the most user-friendly Linux distribution, offering strong community-based support and a consistent release cycle. It has also a reputation for security. Ubuntu updates the latest software versions on a regular schedule. The disadvantage of frequent updates is that it's hard to keep bugs from slipping into the system. In fact, Ubuntu is not intended to be updated with all the latest software as time goes on. It is designed for the opposite, to be stocked with long-tested software and only upgrading them with critical and security-related fixes. Ubuntu is the best choice for newbies.
Debian is a "rolling" distribution which doesn't jump from release to release and its packages are continuously updated. With a moving base of packages, each new change can potentially introduce problems with the other packages. It can be quite stable, as users are quick to report broken features and developers are quick to fix them. Overall, Debian provides an "unstable" repository. It is a usable and responsive distribution, but it isn't one we'd recommend for complete beginners.
Mint is light and faster than other Linux distributions. It is a Linux distribution for desktop computers, based on either Ubuntu or Debian. New versions of Mint are released every six months. There are two releases per year, generally timed one month after Ubuntu releases.
A Linux distribution is an operating system built on top of the Linux kernel. Well-known Linux distributions include Ubuntu, CentOS, Fedora, Debian, Mint, Red Hat and OpenSuse. There are some tools available to help people select an appropriate distribution. The diversity of Linux distributions is due to technical, organizational, and philosophical variation among vendors and users.