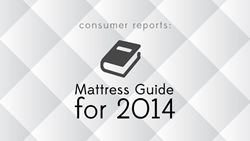 New York, NY (PRWEB) March 08, 2014
It is no secret that mattress shopping proves confusing for many people attempting to navigate the sea of salespeople, brands and claims. Dozens of websites and guides exist to help consumers learn about beds and compare options, with one of the more definitive sources being product review publication Consumer Reports. In their latest article, released March 7, bed industry blog Mattress Journal reviews the 2014 Consumer Reports mattress guides, comparing their results with reviews and offering additional insight.
Mattress Journal first introduces readers to highlights of this year's tests which featured over 24 different mattresses. While Consumer Reports reserves the their detailed ratings and full results for paid subscribers, the blog looks at the best and worst performers as revealed in the magazine's press releases and public articles. Leading beds from the 2014 tests include a high-end air mattress, an affordable memory foam bed, and a popular innerspring mattress, while the other end of the spectrum held cheap and mid-priced memory foam as well as an ultra-luxury brand.
The article then compares Consumer Reports' best and worst mattresses with other leading brands in their respective categories. Mattress Journal offers the comparison in simple chart format with the basic mattress details, price, percent of satisfied reviewers, and percent of reviewers mentioning durability issues. Information was drawn from brand and retail websites as well as third-party review websites.
Grouped by category, the comparison looks at five brands of air beds, six memory foam brands, and six innerspring brands. In their analysis, Mattress Journal finds support for several of Consumer Reports' results, but also identifies a few options with higher reviews and potentially better value than some of the CR picks. The article also links to Mattress Journal's more detailed guides and comparisons of memory foam mattress brands.
The other half of the review looks at shopping tips and suggestions for selecting a new bed. Mattress Journal summarizes advice from Consumer Reports experts, and then offers seven additional tips based on editors' industry experience such as exploring a variety of beds, utilizing the internet, and a quick how-to for comparing beds. Interested readers are also invited to participate in a poll on mattress shopping and browse the blog's related mattress guides and sleep articles.
MattressJournal.com offers the latest bed news and mattress reviews to help shoppers research purchases and get the best sleep possible. Through careful, independent analysis of mattress types, brands, and sleep research, the blog offers expert opinions in readable, relatable format. With a focus on making the buying process simpler, Mattress Journal proves a valuable resource for consumers.