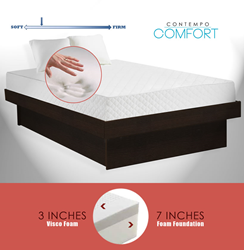 Contempo Space has a long history of making business decisions based on customer feedback.
Passaic, NJ (PRWEB) March 20, 2014
Contemporary furniture manufacturer and retailer Contempo Space has expanded their product offerings to include a new line of mattresses.
Named the Contempo Comfort Collection, this new group of memory foam mattresses compliments the company's existing assortment of platform beds and other modern bedroom furniture.
"We're a custom furniture store," notes Danielle Mancini on behalf of Contempo Space. "We've always focused on making the best furniture, getting new designs out for customers, and keeping our customer service top notch."
Mancini goes on to say that the natural progression from making platform beds and storage beds was to offer memory foam mattresses, which are commonly recommended for use on platform type beds.
"One of our customers was sitting with our designer Gary, they were designing a bedroom set together, and she asked about what kind of mattresses we have. When she found out we didn't have a mattress offering, she started laughing, she thought it was silly that we were going to fill her bedroom with furniture but no mattress!"
Contempo Space has a long history of making business decisions based on customer feedback.
"We didn't have to think for very long to agree with our customer. It's one thing to say, 'The customer is always right,' but this customer was right on the money about getting something happening with mattresses."
The company has now added six new memory foam and gel mattresses to their bedroom offerings. Visit the company's mattress page to see the Tranquil Foam, Visco Foam and Mellow Gel mattresses, each of which is offered in king, queen, full and twin sizes in the customer's choice of thickness.
This first selection of mattresses exclusively includes memory foam mattresses, as foam mattresses are most commonly used with platform beds, where no boxspring is required.
The comfortable memory foam mattresses are known for supporting pressure points during sleep better than traditional mattresses, relieving back pain, shoulder pain and other aches and complaints.
Commenting on initial customer reactions to the new mattresses, Mancini says simply, "They're happy. A well-rested customer is a happy customer!"
About Contempo Space:
Contempo Space has been specializing in custom home furnishings for 30 years, offering modern lines of bedroom furniture, living room furniture and more. Design consultants and craftsmen work with customers to create the perfect piece for any space, hand-crafted to meet the customer's specific needs.
To learn more about Contempo Space, the one-of-a-kind company that still puts quality first and still designs and manufactures furniture locally at its Passaic, NJ factory showroom:
Visit http://www.contempospace.com, call 888-266-1280 or come on down to the showroom at 220 Passaic Street, Passaic, NJ.