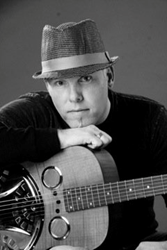 With Sound Royalties, the personalized approach and the trust factor really sold me. They genuinely wanted to help, especially with my finances.
West Palm Beach, FL (PRWEB) September 05, 2017
Music-focused finance firm Sound Royalties, LLC is proud to announce its collaboration with renowned country music songwriter Danny Myrick. Myrick joins a growing list of artists who have utilized Sound Royalties' unprecedented royalty funding options to advance their careers.
Myrick began a music career in his Mississippi hometown with his family's gospel band, which gave him the opportunity to record his first album at the age of 7. He moved to Nashville at the age of 17 and found great success songwriting for country music legends like Tim McGraw and Craig Morgan. Myrick is best known for writing the timeless hit, "She's Country," recorded by Jason Aldean.
The multi-talented Myrick is currently producing a documentary about life as a songwriter called "Ghost Town Troubadours," and is working with songwriter Travis Howard on finding a home for his farcical musical "Church: A Spirited Revival."
Sound Royalties came highly-recommended to Myrick by multiple colleagues and friends in the industry, including fellow Sound Royalties customer Priscilla Renea. Myrick knew he was making a smart move for his career the moment he met Sound Royalties CEO and Founder Alex Heiche. "The personal approach Sound Royalties takes with its customers is what gained my immediate trust," said Myrick.
"I felt like they came to me on my terms, helping me focus specifically on what I needed financially," Myrick continued. "With Sound Royalties, the personalized approach and the trust factor really sold me. They genuinely wanted to help, especially with my finances. Songwriters are not always the best business people in the world, but Sound Royalties helped me settle my outstanding debts, while also allowing me to invest in equipment for future projects."
Sound Royalties Founder and CEO Alex Heiche added: "We pride ourselves in helping songwriters and musicians be able to focus on their art, instead of being held back by their finances. Our team of Funding Executives create unique solutions for each music professional we work with, helping them propel their careers, without having to worry about how to fund their next project or sacrifice their music rights."
About Sound Royalties
Founded by CEO Alex Heiche, Sound Royalties, LLC is a privately-owned specialty finance firm that helps music industry professionals fund personal and professional projects while allowing them to retain the rights to their music and royalties. The company's core business is offering royalty advances of anywhere from $5,000 to $10 million, without having to deal with credit issues, while preserving all rights to the artist's music. To date, Sound Royalties, LLC has worked with a wide range of leading music industry professionals, including Grammy Award winners, platinum recording artists and notable music industry executives in every genre. Learn more at http://www.soundroyalties.com.