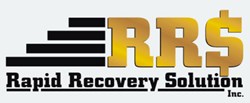 Bohemia, NY (PRWEB) November 15, 2013
Rapid Recovery Solution, Inc. identifies danger in department store credit cards.
According to a November 13 article from CNN Money titled "How a $2 Debt Almost Turned Into $90,000," consumers are increasingly in debting themselves through retail credit cards. Clothing stores are often the most predatory in their attempts to secure new cardholders, offering immediate discounts of 10 or 15 percent after an accelerated application process. Shoppers are approved within minutes and leave the checkout counter with new plastic in their pocket.
The article narrates the account of one consumer's struggle with retail credit cards. After being tempted by holiday sales, former FDIC chair Sheila Bair purchased a suit from a local department store and promptly paid in full upon receiving the bill.
However, a "9" on her check was processed as a "7" and a $10 late fee followed. As Ms. Blair brushed the $12 debt aside, four months of delinquencies dropped her FICO score to near subprime rates. A mortgage she applied for soon after cost a half percentage point more, which would cost Ms. Blair an extra $250 a month and $90,000 for the duration of the loan.
John Monderine, CEO of Rapid Recovery Solutions, weighs in. "Sheila Blair's story exposes two common blunders among consumers. First, one should never underestimate the ramifications of even minute debt that is intentionally avoided." Monderine continues. "Second, retail credit cards are treated the same as bank credit cards by financial institutions and accounts receivable collection firms. Cardholders must be aware of all spending practices on these accounts. Furthermore, the modest savings consumers enjoy upon applying are often too small to justify these cards in the first place."
Founded in 2006, Rapid Recovery Solution, Inc. is headquartered at the highest point of beautiful Long Island. Rapid Recovery Collection Agency is committed to recovering your funds. We believe that every debtor has the ability to pay if motivated correctly. We DO NOT alienate the debtors; we attempt to align with them and offer a number of ways to resolve not only your debt but also all their debts.