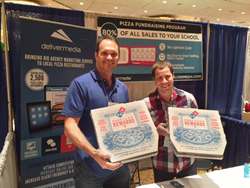 We saw the bulk of attendees visiting our booth asking how it was possible to get such a high rate of return from a fundraiser program - Josh Chevalier
(PRWEB) September 09, 2016
Tampa-based marketing agency Deliver Media kept busy showing PTA participants how they can receive an unprecedented 80% return on their school fundraising efforts at the Pinellas County PTA Fall Workshop. Josh Chevalier a member of Deliver Media's Sales Team said, "we saw the bulk of the attendees visiting our booth asking how it was possible to get such a high rate of return. They were skeptical until we showed them how the Pizza Fundraising Program works"
The secret lies in the heart of the program. Michael Huth, Chief Digital Officer said, "Deliver Media is a fully integrated marketing agency specializing in print and digital marketing for multi-location businesses. The goal of our Pizza Fundraising Program is to help public and private schools as well as non-profit organizations gain the maximum amount of funds to benefit them and the community." He expressed that the basis of the program was founded on philanthropic efforts. The program returns between 70-80% of gross sales depending on the total amount of pizza cards sold. The pizza cards are sold 100% online eliminating the safety concerns for door-to-door selling. Additionally, the fundraising program provides students a learning opportunity in how eCommerce works and provides an ideal way to get them involved. "We suggest utilizing social media, email and even text to help promote the fundraiser" said Josh.
Deliver Media already attended this year's Florida PTA's Leadership conference in late June. The event was attended by over 1,000 attendees seeking for continuing training and to build relationships with the attending exhibitors. Later this month, the Deliver Media Team will attend the Miami-Dade County Council PTA/PTSA Fall Leadership Development Conference to showcase the Pizza Card Fundraising Program to over 400 institutions located in the district looking for fundraising ideas.
Community involvement is one of the core belief Delver Media prides itself on. Michael Huth states, "We are trying to be good stewards of our success, and we believe that our schools and in turn, our children should have every opportunity to succeed without any limitations." Deliver Media was recently placed on the Registered Fundraisers List for Pinellas County Schools for the 2016-2017 academic year and is available to any school, PTA organization and booster clubs in that county.
About Deliver Media
Deliver Media is a fully integrated marketing agency helping national franchises with local marketing solutions by providing data-driven direct mail programs, SEO, PPC, video and social media management services specifically scaled for multi-unit businesses. Deliver Media has the experience and knowledge to develop a custom made media campaign that is cost efficient and effective with the goal of making marketing easy for business owners. For more information visit http://www.delivermedia.com.