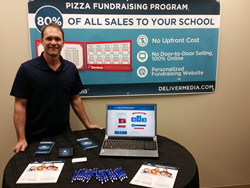 Our goal is to help provide the best opportunity for schools to reach their fundraising goals - Michael Huth
Miami, FL (PRWEB) September 30, 2016
Deliver Media, a marketing agency located in Tampa, Florida, made an appearance at this year's Miami-Dade County Council PTA/PTSA Fall Leadership Development Conference this past weekend. They presented their Pizza Fundraising Program to the attendees which included over 300 local and county leaders.
"We are excited to get our program in front of all the members of the school community," said Michael Huth, Chief Digital Officer at Deliver Media. "Our goal is to help provide the best opportunity for schools to reach their fundraising goals." Huth and the Deliver Media team developed a school fundraising program that can return 80% on all gross sales to the school or organization. "It never gets old seeing the surprised look on everyone's faces when we tell them the return on the program," said Huth.
"The program is really rooted in helping the community," said Huth. The program is designed to sell discount pizza cards to the donating party. Huth said, "We wanted to provide a product that people would actually use, and who doesn't like a hot cheesy pizza from your local pizza restaurant?" To take out safety concerns, the school fundraising program was designed to be 100% online. This eliminates the need for door-to-door selling and help students understand how modern day ecommerce functions. "The promotion of the fundraiser can be done in many ways," said Deliver Media's Client Relationship Manager, James Christensen. "Students, teachers, coaches and other participants can promote the fundraiser via email, text and on social media."
Deliver Media already attended this year's Florida PTA's Leadership Conference in early June and the Pinellas County PTA Fall Workshop in the beginning of September and plans to keep connecting with other school systems. Community involvement is one of the core beliefs Delver Media prides itself on. Michael Huth states, "We are trying to be good stewards of our success, and we believe that our schools and in turn, our children should have every opportunity to succeed without any limitations."
About Deliver Media
Deliver Media is a fully integrated marketing agency helping national franchises with local marketing solutions by providing data-driven direct mail programs, SEO, PPC, video and social media management services specifically scaled for multi-unit businesses. Deliver Media has the experience and knowledge to develop a custom made media campaign that is cost efficient and effective with the goal of making marketing easy for business owners. For more information visit: http://www.delivermedia.com.