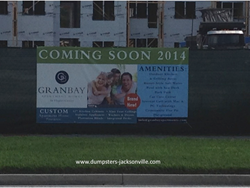 We provide a vital service to construction sites and ensure that they remain on schedule.
(PRWEB) September 18, 2014
Jacksonville roll off dumpsters provider, Sunshine Recycling, is currently providing dumpster and hauling services to a new apartment complex construction site. Gran Bay Realty Partners LLC, operated by the Rohdie Group of New York, began construction on the 15.5-acre development several months ago. Sunshine Recycling is supplying the development project with eight 30-yard dumpsters and hauling services several times a day.
The dumpsters provided by Sunshine Recycling are being used to discard destruction and demolition debris from the construction site. 30-yard dumpsters are the standard size for any excavation and construction project. The size of these dumpsters makes it possible to recycle all types of construction debris like drywall, plastic, cardboard and wood trim. However, extremely heavy items like concrete slabs should not be recycled in these dumpsters.
The $23 million construction project will develop 14 apartment buildings with 308 units for the Gran Bay Apartment Homes at Flagler Center. The land will also be constructed to house a 7,000 sq-ft clubhouse and leasing center, as well as seven garage buildings for the residents' cars. The development is expected to reach completion in September 2015.
Rohdie Group of New York employed Summit Contracting Group, Inc as their contractors for the project. Sunshine Recycling and Summit Contracting Group, Inc previously worked together on the construction of the new K9 For Warriors training facility in Nocatee. K9 For Warriors is a service organization that provides canine companionship to wounded veterans in an effort to make their transition to civilian life easier.
"We provide a vital service to construction sites and ensure that they remain on schedule," said Chuck Herb, owner of Sunshine Recycling in Jacksonville. "Sunshine Recycling prides itself on being timely and professional."
About Sunshine Recycling of Jacksonville:
Sunshine Recycling Inc. of Jacksonville is a dumpster rental company servicing north Florida. Offering various sizes of dumpsters including front-load, roll off and full-size construction dumpsters, Sunshine Recycling also collects recyclables, waste and construction debris, and provides hauling services and trash compactors. The company is a proud member of the U.S. Green Building Council and is LEED AP certified. For more information about renting construction dumpsters in Jacksonville, please visit http://www.dumpsters-jacksonville.com/roll-dumpsters/.