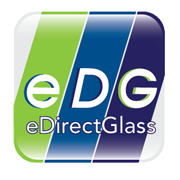 In a highly competitive market like those found in Europe, companies must do a lot with limited resources. This expansion will help these markets access capabilities once thought unattainable and produce results to drive rapid revenue growth
Scottsdale, Arizona (PRWEB) October 06, 2015
eDirectGlass (eDG), the definitive industry leader, innovator, and disruptor of automotive glass repair and replacement (AGR) technology and services, announced today that after identifying severe gaps in technology services that currently support the AGR industry in Europe, it will begin aggressively expanding into this marketplace. The expansion reflects the wider effort eDG is making to help independent automotive glass retailers become more connected and realize savings and profitability through Internet technologies and services.
"This expansion plan reaffirms eDG's commitment to the industry to strengthen the supply of products and services by providing more options for these emerging markets to improve connectivity and access to our innovative technological solutions," said Gary Hart, technology evangelist for eDirectGlass.
eDG's core product, Total Shop Management (TSM), is the only 100% cloud-based point-of-sale, shop management, and insurance claims platform in the worldwide AGR industry. Beginning in the first quarter of 2016, the entire family of TSM services will be available and localized for use in Germany and quickly following in other European Union countries.
"In a highly competitive market like those found in Europe, companies must do a lot with limited resources. This expansion will help these markets access capabilities once thought unattainable and produce results to drive rapid revenue growth," continued Hart. "In order to uphold our no-holds-barred commitment to this expansion, we will supply attentive and dedicated local personnel who understand the nuances and unique needs of these markets through our newly formed partnership with Autoglaserei Jacob GmbH (d/b/a/ JACOB AUTOGLAS) based in Lauterbach, Germany," concluded Hart.
"For over five years, JACOB AUTOGLAS has been using TSM to provide glass repair and replacement billing services for the American servicemen and women who reside and work in Germany. We realized early on the impact that eDG's technology and team can make in Europe and we are happy to be working with them as part of their global expansion," said Sven Jacob, owner of Autoglaserei Jacob GmbH. "The industry in Europe is ready for what eDG can deliver and from early indications, is ready to align with its technology and services which are poised to radically disrupt, in a positive way, the marketplace. The timing of this announcement could not have come at a better time since independent glass shops in Europe are feeling the extreme competitive pressures now exerted on them through the recent approval by the Federal Cartel Office for the sale of Junited AUTOGLAS to Carglass-Belron," concluded Jacob.
eDG and JACOB AUTOGLAS concluded this business arrangement during Auto Glass Week 2015 held September 30th through October 2nd in Reno, Nevada. eDG provided attendees with "hands-on" demonstrations of its core new features including SwiftVIN, OE Part Verify, and their latest announced feature called Impact. For more information about eDirectGlass, please visit http://www.edirectglass.com.
About eDirectGlass®
eDirectGlass, owned by AMJ Logistics(TM), Inc. and founded in 1995, is a privately held corporation based in Scottsdale, Arizona. AMJ builds applications and solutions where all aspects of the manufacturing, supply chain vendors, insurance and end-user industries converge. These applications and solutions enhance productivity, profitability and increase customer satisfaction critical to the growth and success of the marketplace. For more information on eDirectGlass, ClaimsVerse, AMJ Logistics or any of our other solutions, contact Gary Hart (gary.hart@edirectglass.com) at 480.993.0915 or visit our website at http://www.edirectglass.com.
About Autoglaserei Jacob GmbH
Since 1985, JACOB AUTOGLAS has worked in the Glass and Automotive Glass Business. It was founded by Sven Jacob and was based on the family business owned by his father and grandfather. In 1999 it became Autoglaserei Jacob GmbH. JACOB AUTOGLAS has specialized supplying and installing automotive glass for USA-based model vehicles in the European AGR market. Jacob Autoglas is a member of the Independent Glass Association in the USA in addition to being on the Board of Directors for the over 300 year old Guild of Glaser the "Glaserinnung Cottbus 1704" in Germany, the place where glazing was founded. Today JACOB AUTOGLAS specializes in both mechanics and glazing, combining both heartbeats in one body.