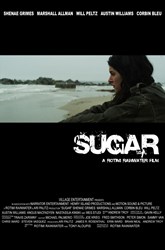 Los Angeles, CA (PRWEB) July 13, 2013
The movie 'Sugar' continued its improbable success by winning the 'Film Heals Award' at the recent Manhattan Film Festival. The award is the latest accolade in a slew of recent accomplishments for executive producer Elliott Broidy and director Rotimi Rainwater, which belies the film's low budget and limited marketing.
Elliott Broidy and Rotimi Rainwater happily received the award from the Manhattan Film Festival which was added to the collection of achievements the film has already accumulated. These achievements have thus far included a congressional screening on June 27th, a robust grass roots funding campaign launched on IndieGogo and five members of the largely homeless cast getting off the streets. 'Sugar' also aims to raise enough funds to serve 10,000 meals for homeless youth.
Set to debut in September, Director Rotimi Rainwater also attributes Sugar's burgeoning popularity to a notable Los Angeles native who has bolstered the film's profile. Elliott Broidy, a Los Angeles investment manager said the film quickly endeared itself to him. Elliott Broidy's support of 'Sugar' is an extension of his charitable work with Lauren's Kids Foundation and the Council of Guardians of Aviva Family and Childrens Services. Elliott Broidy's firm, Broidy Capital Management, is also located in Los Angeles not far from the Venice Beach location where 'Sugar' was filmed.
The film's message of hope for homeless youth also attracted an accomplished cast of Hollywood actors. Beverly Hills 90210 alumna Shenae Grimes plays the namesake character who gives the film its title. Marshall Allman of True Blood and Prison Break fame, along with Corbin Bleu of One Life to Live lend additional star power.
'Sugar' follows the struggle for survival and hope on the streets of Venice Beach following the death of the main character's family in a car crash. Director Rotimi Rainwater was himself homeless for nearly a year on the streets of Orlando following a stint in the United States Navy.
To further raise awareness in advance of the September premiere, the movie's production team has strategically scheduled screenings in several cities with large homeless youth populations.
More information including screening dates can be found at: http://www.facebook.com/thesugarfilm.