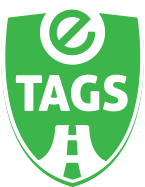 We are looking closely at expanding into Northeastern markets
FORT LAUDERDALE, FLORIDA (PRWEB) November 04, 2015
eTags launched as a Florida-based company offering fast and easy online vehicle registration services to people all over The Sunshine State. Since its launch last year, the company has experienced notable growth with their most recent achievement in the successful launch of services in California after securing a business partnership with the CA DMV. The new domain not only ties in more closely with how the eTags team has long identified themselves, but it also represents a move to embody the company's goals and future.
"We want to make vehicle registration services more convenient for vehicle owners in every state. Now that California and Florida are launched, we are looking closely at expanding into Northeastern markets over the next few quarters, and already have an approved office location in Maryland," said Tommy Bussey, Chief Strategy Officer at eTags. He goes on to comment that the new domain is a better fit both for the company's brand and for its mission.
Unlike other registration renewal options, eTags has focused on using cutting-edge technology and world-class customer support to make online DMV services easier and faster. With a sleek, easy-to-use interface, people can use eTags.com anytime, anywhere. The platform can be used on any internet-enabled device, including laptops, smartphones, and tablets, and customers can renew all of their registrations from a single webpage. Currently, drivers in Florida and California can use eTags services to eliminate wait times at the DMV, speed up processing and shipping times, access email and phone support, receive notifications regarding upcoming deadlines and expiration dates, and more.
About eTags
eTags.com is a ShopperApproved website with over 22,000 five-star ratings, offering fast tag registration renewals, title transfers, change of DMV address resources and more in multiple states across the U.S.