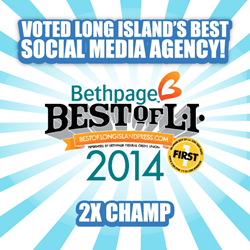 Social media is like the latest form of news.
Bohemia, NY (PRWEB) January 21, 2014
fishbat, one of the top Long Island advertising agencies, discusses five social media tips that can foster a better user experience.
According to a Chicago Tribune article published on January 16th titled, "In social media, thinking small can be big," social media users can have the ability to change the way they experience content in a few ways. Changing certain settings could make a big difference in how people view a page.
Justin Maas, vice president of client relations at fishbat, offers some advice to social media managers, and individual users, to make their social media experience more valuable.

Be cautious of free images. Justin Maas, vice president of client relations at fishbat, says images can be deceiving, and when using free images on the Internet, social media managers must make sure they fit the brand. "Maintaining a brand is one of the most important things when posting on social media for your clients," he says. "Sometimes pictures could be heavily photoshopped. Managers have to be aware that the images and videos they post on behalf of that brand are being seen and examined by thousands of people. These images have to speak to the brand's identity, and also the content that's being posted."
Make sure content is timely. Maas says social media is all about being current. "Social media is like the latest form of news," he says. "Stories break on social media before they are seen on national news channels. It's important to distribute content in a timely fashion. You have to use relevant content that people will want to share. No one wants to share an old photo or article."
Take advantage of Facebook preview settings. With all the privacy settings available on Facebook, Maas believes that there's no reason to not take advantage of them. "This is mostly user specific," he says. "All users should really try to lock down their profiles. Profiles aren't private if you don't make change your settings and constantly maintain what other people can see."
Take advantage of Twitter's advanced search. "This is a great tool for social managers, marketers and even general Twitter users," he says. "You can easily discover new users, and new conversations just by narrowing down your search. It's definitely something to keep in mind when implementing a Twitter campaign."
Get more involved in Google Plus. "Google wants you to use its platform," he says. "By updating your Google Plus profile, you're automatically raising your value in the eyes of Google. When you're writing content on that platform, make sure it stands out. Most users don't know how to bold and italicize words. Using an asterisk (*) around words will bold them, while using underscores (_) will italicize them. These tricks can help users and social managers make statements."
fishbat is a full-service digital marketing firm and social media agency dedicated to connecting all types of businesses with their target audiences in the most effective and efficient way. Through innovative strategies in social media management, search engine optimization (SEO), branding, web design, reputation management and public relations, fishbat promotes a consistent and professional online voice for all of its clients.
#####