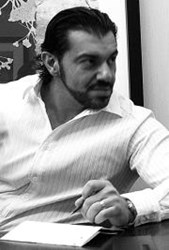 Sadly, in the fitness industry, linear income leads to quickly burning out and feeling frustrated...
Chino Hills, CA (PRWEB) July 29, 2013
Marketing a personal training business is a subject that fitness expert, Bedros Keuilian, knows a lot about, and that is mainly due to the fact that he has spent the better part of the past 15 years working his way up through the fitness industry. Growing his personal training studios to well over six figures and then launching America's first and fastest growing indoor boot camp franchise, Fit Body Boot Camp, Keuilian has a proven track record for success in the fitness industry.
Keuilian explains, "When I first started training clients my income was straight up linear, where I was trading time for dollars. My entire business model was built on training one client for one hour... very linear. Sadly, in the fitness industry, linear income leads to quickly burning out and feeling frustrated, but I learned it doesn't have to be that way. For me, I figured out how to create passive, recurring, and exponential income for my training business and now I want to share it with other personal trainers."
Here are the six most overlooked ways to increase fitness income:
1. Put all of your personal training clients on electronic funds transfer (EFT) as soon as possible. This will create recurring monthly income and will stop you from hunting down your clients at the end of each month.
2. Hire a couple of qualified personal trainers to train your clients, so you can spend more of your time on marketing your fitness business and bringing in new clients for your employees to train.
3. If you have a stand alone space for your personal training business, rent it out in your business' off hours so you can bring in extra income without spending extra money.
4. Use social media sites and start a blog proving you are the fitness expert in your area. The more social proof you can post to your media sites and blog, the more of an audience you can bring in. That audience could translate to paying clients if the content you deliver through these sites gives good fitness and health information.
5. Partner up with local business that relate to health, like spas, chiropractors, and hair salons. Contact the owners of these businesses and form a partnership/referral system where you agree to refer clients if they do the same. This will help you to network and meet other local businesses.
6. Craft scripts for everything. A phone script. A face to face script. A sales script. Dealing with objections scripts. Never "wing it" without a proven system for closing a client.
About Bedros Keuilian
Bedros Keuilian, founder of the popular fitness marketing blog, PTPower.com, and president of the fitness boot camp franchise, Fit Body Boot Camp, is a long time fitness business coach and personal training sales expert who has helped thousands of personal trainers worldwide grow their personal training businesses. To find out more about Bedros Keuilian, his company PTPower, or Fit Body Boot Camp, please visit http://www.ptpower.com, and http://www.myfitbodybootcamp.com