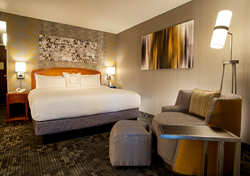 From day one, Courtyard has prided itself as a brand that listens to what travelers want in a hotel
McLean, VA (PRWEB) March 26, 2014
The 229-room Courtyard by Marriott Tysons Corner hotel, located in McLean, Virginia, has completed a major renovation of its guest rooms. Thoughtfully planned and meticulously executed, each room features new plush bedding; a large, functional work space: spacious bathrooms; a separate soft seating area; 42" flat panel HD TVs; and complimentary high-speed internet throughout the hotel. Providing a warm, sophisticated environment, the hotel's rooms accommodate guests' desires to stay connected, productive, and refreshed during their stay.
"From day one, Courtyard has prided itself as a brand that listens to what travelers want in a hotel," said Heather Hull, General Manager of the Courtyard Tysons Corner. "Guests want more control and choices of both services and amenities that create a healthy balance between working and relaxing, and we believe our newly transformed guest rooms provide them with that opportunity."
The renovation of the guest rooms to these forward-thinking specifications marks another example of the B. F. Saul Company Hospitality Group's commitment to being a first-mover in the market, and its focus on responding to the guests' needs.
This watershed guest room upgrade is the third of three major hotel enhancements that have happened at this Tysons Corner hotel in the last two years. The most recent was the $500,000 expansion of the fitness center completed earlier this year, making it the largest fitness center of any hotel in Tysons Corner and ideal for any travelers trying to maintain their workout regimen while on the road. And, before the fitness center renovation, the lobby took on a new look and feel in late 2012 as a part of the Courtyard brand's "Refreshing Business" upgrade.
"Tysons Corner is a very vibrant market and home to some of the world's top corporations, many of which utilize our hotel for their business travel needs," says Mark Carrier, president of B. F. Saul Company Hospitality Group. "Given the large number of hotel options in the area, continuing to re-invest in our property is vital to our success and one of the main reasons we are one of the top hotel choices among business travelers in Tysons Corner. We are extremely proud of these guest rooms and would put them up against any hotel around!"
About B. F. Saul Company Hospitality Group
Based in Bethesda, MD, B. F. Saul Company Hospitality Group owns and operates a portfolio of full service, select service, and extended stay hotels located in MD, VA, MI and FL. The Hospitality Group serves both business and leisure guests seeking first class DC hotel accommodations, Washington, D.C. area meeting facilities, and banquet venues. The company also operates two IACC Certified Northern Virginia Executive Conference & Training Centers. To learn more about the B. F. Saul Company Hospitality Group go to http://www.bfsaulhotels.com.