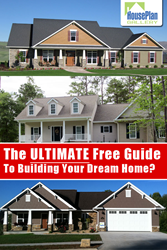 We wanted to create the ultimate "how to build your dream home" resource for helping our clients and to provide a simple, quick & easy way for families to get answers to all the most important questions that they have about how the entire process works...
Hattiesburg, Mississippi (PRWEB) July 29, 2015
With the popularity of Apple's iPhone and the accompanying iTunes store, podcasting has quickly become one of the fastest growing marketing channels for many small and medium-sized businesses.
The term "Podcasting" refers to a popular broadcasting & communication medium whereby any person or business owner can record educational and/or entertaining audio or video content which can then be posted online for people to listen to on their computers, laptops, and/or mobile devices.
House Plan Gallery, one of the nation's leading home designers, immediately saw the potential benefits in podcasting and launched one of the very first podcasts devoted entirely to helping families learn about how the home building and house plans process actually works from start-to-finish.
"Our entire team at House Plan Gallery have always recognized the importance of helping our clients become better educated about how the entire house plan buying / home building process actually works," noted Mark Mathis, president of House Plan Gallery, Inc.
"With that singular focus in mind, we knew that creating the "Build Your Dream Home" podcast would be one of the best ways to reach a larger number of people, in a way that was simple for them to consume in their busy daily lives, on their phones or mobile devices, whenever / wherever they are."
With the U.S. economy continuing to grow, many families are again feeling confident about their future and are again looking at building their families' dream home. A home that best fits their ideal layout, style, size, and budget.
From locating a suitable piece of land, to finding that "perfect" one level house plan with photos, to searching out a home builder in your local area, to determining how much that home will actually cost to build, to acquiring financing, the process can seem overwhelming and many families just don't know where to start.
"Since our design firm has such a long history in the industry, we've been fortunate to have helped over 15,000 + families to design their new dream home," notes Mark Mathis, president of House Plan Gallery. "We've taken those years of experience and created easy-to-follow episodes in the Build Your Dream Home podcast, that walks people through the entire process... from start to finish... and we're very proud to have become, what many consider to be, the #1 resource for "real-world" and free education to help families learn how to design and build their dream home."
To learn more about the House Plan Gallery "Build Your Dream Home" podcast, please visit http://www.houseplangallery.com/podcast