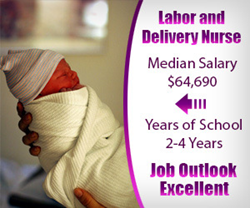 Hanson notes the Labor and delivery nurses are usually trained in all aspects of delivery, because if an emergency arises where a midwife or physician is not present,
Columbus, OH (PRWEB) February 25, 2014
"This is believed to be due to the fact that many registered nurses are getting ready to retire in the next decade. This will open up major opportunities for new aspiring labor and delivery nurses," said Elizabeth Hansen, author of the newly published post "How to Become a Labour and Delivery Nurse".
Areas covered in the guide include:

Salary
Job Description
Education
Certification & Licensing
Job Outlook
Links & Resources
The area that most persons show keen interest is not so much in the outlook of the profession, but what the job pays. According to the report, a new labor and delivery nurse in the United States earns an average of $64,690 per year. However, those in the highest 10 percent usually earn around $95,000 per year, while those in lowest 10 percent may earn around $44,000.
Noting a Labor and Deliver Nurse earning potential relies on several different factors, the author points to such factors as geographic location, place of employment, level of experience, certification status and level of education will all play a role.
Nevertheless, a Labour and Delivery Nurse, according to the guide's author, Elizabeth Hansen, can easily increase his or her earning potential by gaining certifications that pertain to labor and delivery nursing.
"Increasing your level of education and taking advantage of opportunities to advance your experience can also be helpful," said Elizabeth.
Pertaining to the job function a Labor and Delivery Nurse is called to fulfill, seems obvious, but is it? While a Labor and delivery nurse's primarily work in birthing centers, major hospitals, women's health clinics and obstetrical units, they are often perform many different roles depending on what their patients need.
Some less obvious duties of this type of nurse is asked to perform include, but not exhaustively, the following:

Assisting in childbirth
Creating a positive labor experience
Patient education
Monitoring patient vital signs and contractions
Provide pain medications and other necessary medications
Monitor mother throughout hospital stay
Work with women throughout all stages of childbirth
Assist with episiotomies and Cesarean sections
Hanson notes the Labor and delivery nurses are usually trained in all aspects of delivery, because if an emergency arises where a midwife or physician is not present, he or she knows exactly how to go about resolving the particular issue.
Besides the mandatory tertiary education in general nursing, the Labor and Delivery Nurse needs to fulfill certain Certification and Licensing requirements. Because Labor and delivery nurses must be highly skilled to keep up with the demands of the job, the guide points out the different certifications someone pursuing a career in this specialist nursing area might be interested in.
These include Advanced Cardiac Life Support (ACLS), Pediatric Advanced Life Support (PALS) and the following certifications related to labor and delivery nursing:

Inpatient Obstetric Nursing
Low-Risk Neonatal Nursing
Maternal Newborn Nursing
Neonatal Intensive Care Unit
Neonatal Pediatric Transport
The certifications are usually good for two years, with the initial certification requiring the successful completion of a 15-hour class, and renewed before expiration by attending an eight-hour class every two years.
For further information about the newly released Labor and Delivery nurse salary and career guide visit Nursing100.com.
Author Bio
JC McClain is the senior editor for Nursing100.com.