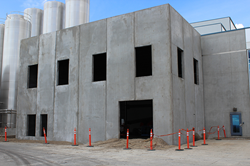 JEROME, Idaho (PRWEB) May 01, 2019
Idaho Milk Products' expansion at their Jerome facility that began in October 2018 is right on track for completion by August. Through this $30 million project, they will expand their warehouse and staff facilities and build a new research and development building to include a pilot plant. This will contain customer facilities, meeting rooms, a Microthermetics unit for ready to drink (RTD) testing, a homogenizer for yogurt applications, membrane systems and bench top space for many other applications. The processing plant will increase throughput by close to 25% by adding membrane systems, silos and dryer upgrades.
"The project is proceeding as planned," commented Dave Anderson, Vice President of Operations, "There are many moving parts to accomplish the process upgrade while maintaining our current milk throughput. The team has done an outstanding job working with contractors and all plant personnel to accomplish this. We expect to be commissioning all process equipment in the second half of July and have the capability to be at full capacity by the first week in August."
When completed, Idaho Milk Products will increase their milk volumes from 3.4 million lbs/day to 4.4 million lbs/day. Thirty additional positions will be created, growing the number of employees to around 180. This includes R&D, Quality Assurance, Administration, Warehousing, Maintenance, Production and Transportation personnel.
About Idaho Milk Products
Idaho Milk Products is a privately held, vertically integrated international milk processing leader, supplying Milk Protein Concentrate (MPC), Milk Permeate, and Cream derivatives to customers around the globe. Owned by local Idaho dairy farmers, Idaho Milk Products has a dedicated consistent milk supply and delivers reliable, quality dairy ingredients. For more information, visit https://idahomilkproducts.com.