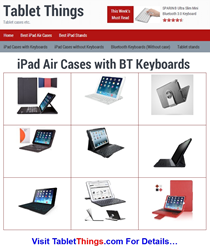 Avoid low quality iPad keyboard cases plagued with Bluetooth connection drops.
Chicago, IL (PRWEB) May 05, 2014
Deciding on which iPad keyboard case to buy can be a daunting task. This is because there is a wide variety of iPad Air Keyboard cases with very different specs. For example, some are made of Aluminum while others are made of plastic or leather. Some cases provide protection only from the front, while others protect the tablet from all directions. Some are water-proof, while others are not.
TOP 5 iPad Air keyboard cases, a recently published review, identifies 10 different criteria that one needs to consider before purchasing an iPad case.
http://TabletThings.com/Best-iPad-Air-Keyboard-Case-Comparison/ lists these 10 criteria as: (i) the material it is made of, (ii) whether it is a "case" or a "cover", (iii) whether it is "smart" or not, (iv) whether it has a backlit keyboard or not, (v) ability to adjust the iPad at multiple angles (landscape and portrait modes), (vi) whether the keyboard is detachable or not, (vii) battery life, (viii) thickness, (ix) spacious keyboard layout for easy, fast typing, and last but not least, (x) the price.
Digging through pages of tech specs to look for these criteria can be exhausting. This is where the above review comes in handy because they have already done the homework, on behalf of the consumer.
In addition, http://TabletThings.com/TOP-3-Budget-Keyboard-Cases/ identifies and reviews the TOP 3 most budget-friendly iPad keyboard cases for those who are budget-conscious. These budget-friendly models, priced from $25 - $40, would satisfy most iPad Air keyboard case hunters. It is a highly recommended read for anyone looking to buy a smart case or cover for their iPad Air, iPad Mini with Retina Display, iPad 4 or any older generation iPad.
According to the above review, iPad cases are available under popular brand names like Belkin, Logitech and Kensington as well as not so big name brands like ZAGGkeys, Trent Airbender, MoKo, Brookstone, SHARKK, iHome, and Crux. Several iPad cases from less well-known brands have also made the list of TOP 5 keyboard cases.
PROS and CONS of Aluminum-based and leather-based iPad Air cases explained in detail.
The review goes in to details about the differences between Aluminum-based iPad cases and leather-based cases. The Aluminum ones have a premium look, are lighter in weight and thinner than leather cases. However they can be relatively less shock absorbent if the iPad takes a fall. In contrast, leather cases are heavier and bulkier, but they will be more shock resistant. Examples for Aluminum-based iPad cases that are reviewed include ZAGGkeys backlit iPad Air keyboard case, Belkin QODE Ultimate iPad Air case with keyboard, and the Logitech iPad keyboard case. Unfortunately, the premium-features of Aluminum cases don't come cheap. As shown on the review, leather-based (especially synthetic leather) iPad cases are generally more wallet-friendly, and thus have been classified under budget-models.
Another point emphasized by the review is the difference between an iPad Air cover and a case. iPad covers only provide protection on the front side, the side with the screen. In contrast, iPad Air cases provide all-around protection. According to the above review, the ZAGGKeys backlit iPad cover is the best iPad Air keyboard cover available in the market. In contrast, the New Trent Airbender 2.0 iPad Air case and the Belkin Ultimate Bluetooth iPad Air keyboards provide protection from both the front and the back. However, if protection is one's main concern, they recommend impact resistant cases like the OtterBox Defender series and SUPCASE Beetle Defense series iPad cases. However, these don't come with keyboards and a separate keyboard will need to be purchased. The review on top four iPad Air keyboards lists the best wireless keyboards available for Apple iPad Air and iPad Mini tablets. In addition to reviewing keyboard cases for iPad Air tablets, they also review best cases for the iPad Mini with Retina Display as well as popular Android tablets like the Kindle Fire HDX, Samsung Galaxy Tab and Google Nexus 7.