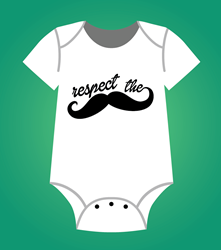 'The goal with of the Moustache Onesies is to raise awareness and funds for prostate cancer,' says Monique Martin Co-founder of KiddieCo.com. 'Lets not forget how cute the babies are going to look in these onesies!'
Fort Lauderdale, FL (PRWEB) October 31, 2013
November is finally here which means Movember is back! This year, KiddieCo.com is helping to change the face of men's health through the power of the moustache. KiddieCo.com has created a line of moustache baby onesies with funny slogans and different style of moustaches for babies everywhere.
The inspiration for their baby onesies came from Movember, an organization that funds men's health initiatives, best known for their moustache-growing campaign that takes place during the month of November. With the new KiddieCo.com moustache baby onesies, infants with inability to grow a moustache can show their support too!
KiddieCo.com will donate 25% of each Movember baby onesie sold along with the funds raised from the Breast Cancer Awareness Baby Onesies during October, directly to the Pink and Blue for Two campaigns.
With every order you will also receive a moustache sticker. The idea is to send a picture of your baby with the moustache and to create more awareness. The best picture will receive a free funny baby onesie!
"The goal with the mustache onesies is to raise awareness and funds for prostate cancer," says Monique Martin Co-founder of KiddieCo.com "Lets not forget how cute the babies are going to look in these onesies."
Movember is simple: Participants register at http://www.movember.com, start the month clean-shaven, and then grow moustaches throughout the month in an effort to raise funds and awareness about men's health, specifically prostate and testicular cancer initiatives. November male cancer awareness aims to increase early cancer detection, diagnosis and effective treatments, and ultimately reduce the number of preventable deaths. In 2012, over 1.1 million people around the globe joined the movement, raising over $140 million USD.
The event is not part of Movember, but is inspired by the organizations activities.
About KiddieCo.com
A Florida-based e-Commerce store KiddieCo.com is a family owned company that started in 2012 with the goal of selling the most adorable hand made-to-order products available for both baby and child. KiddieCo.com was started with the idea that babies make the world go around, and why not spoil them. Today you can find a wide range of custom hand made-to-order products for the baby that brightens your day inside and out. The products and selection in their boutique continually update to keep it unique, fun, and fresh.