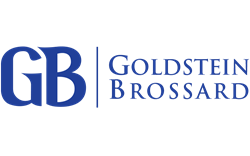 Most attorneys have a niche that they consider themselves experts in. We specialize in delivering more of the types of cases that firms want
Watsonville, CA (PRWEB) September 13, 2014
Goldstein Brossard is a full service boutique SEO company that helps attorneys and law firms get more of the cases they are seeking by improving the presence online. They are now offering new SEO packages for law firms looking to get new clients from the internet. "We understand that every law firm is different. Most attorneys have a niche that they consider themselves experts in. We specialize in delivering more of the types of cases that firms want," says Tony Brossard of Goldstein Brossard. According to Brossard many of the people they help have been burned in the past. "Most attorneys tell us they have cycled through several SEO companies without achieving the results they desire."
The new lawyer SEO programs consist of Gold, Silver and Bronze packages. Each SEO program being offered by Goldstein Brossard is customizable to meet the needs and marketing goals of the firm. "We came up with new packages because we wanted to simplify the way that firms buy SEO. A firm can choose their budget and then customize their package to focus on their highest priority marketing objectives," says Dan Goldstein, Director of SEO at Goldstein Brossard. They still offer fully custom offerings for law firm whose needs exceed the available packages.
The Gold Package being offered by Goldstein Brossard includes all essential elements of SEO and allows firms to target multiple geographies and focus multiple practice areas. "Our Gold Package matches the needs of most firms that consider themselves to be market leaders in their specific metro area. The Bronze and Silver Packages allow firms that are less aggressive or who cover less cities and practice areas to improve their placement and get more cases," says Tony Brossard. Goldstein Brossard also has a special package for people who want to focus on a specific project which includes the development of a new practice area specific website.
Goldstein Brossard offers law firms and lawyers a no cost consultation so one of their marketing experts can get to better understand the needs of the firm. During the consultation the SEO specialist will get a feel for what makes the firm special so the factors that differentiate the firm from other lawyers can be leveraged for maximum success. "Each prominent attorney has handled specific types of cases that make their individual experience unique. We want to be able to help the person in need of representation clearly understand the personality of the firms we help," says Brossard.
To learn more about the new Gold, Silver and Bronze Lawyer SEO packages being offered by Goldstein Brossard please call (408) 625-7360. To learn more about Goldstein Brossard please visit their website or read their press releases. Law firms are also invited to view their informative videos. To schedule a no cost consultation please call (408) 625-7360.
Goldstein Brossard
8 Hangar Way
Watsonville
CA 95076
(408) 625-7360