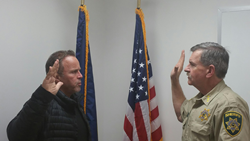 (PRWEB) January 04, 2017
Lloyd Claycomb was sworn in by Sheriff Wheeler as a Bonner County Sheriff's Special Deputy in Sandpoint, Idaho.
Law enforcement isn't uncharted territory for Mr. Claycomb, who has earlier in his professional career served another community as a Reserve Deputy and was the first reserve officer there to train and certify a K-9. Lloyd pilots and donates his jet helicopter to the Bonner County Sheriff's office for a variety of their needs including SWAT and Search & Rescue.
As a certified jet pilot with over 5,000 hours flying time in various aircraft, he has been an active member of his community and works towards giving back to the citizens. His generous donations to a number of causes and groups including, Priest Lake People Helping People Auction, Amazing Facts International, Our Children International, Maranatha International Volunteers, Child Help and Southwest Autism Research & Resource Center have highlighted his strong passion for philanthropy in applying his knowledge and experience to impact the world and make it a better place. Recently, Lloyd Claycomb II created and merged Our Warriors at Home, a nonprofit that cares for family members of wounded American soldiers, with another 501(c)(3) of which he is a director in order to further his desire to give.
Despite his recent move towards a political career after being appointed to President-elect Donald Trump's 2016 State Victory Finance Chairs and his Transition Finance Committee – Lloyd continues to be as involved as possible with local communities through various fundraising initiatives and now in his new role as a Sheriff's Deputy for Bonner County. This is not the first time Lloyd Claycomb II has interacted with the judicial and law enforcement sectors, having been appointed to the Arizona Commission on Judicial Conduct in March 2010 by then Governor Jan Brewer.
Lloyd Claycomb is devoted to using his time and money as a successful businessman, proud American, and passionate philanthropist to benefit the Sheriff's department and the community to which he's spent so much time giving back. One of his main goals remains the raising funds of for pressing concerns as he upholds his civic duties.
You can reach Lloyd Claycomb on twitter @Lloyd_Claycomb or through his personal website.