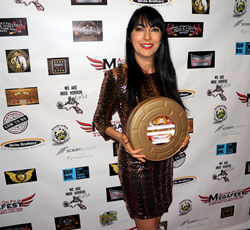 I will have great memories of this moment for a long time, and I will continue doing my best to make impactful social cause feature films that could positively influence their viewers.
LOS ANGELES (PRWEB) August 31, 2018
The social impact documentary feature film on homelessness, OFF THE STREETS FOR GOOD, written, directed, and produced by CSUN Psychology Professor and NIH-funded researcher Luciana Lagana, aka Dr. Luciana, has been faring well at film festivals in 2018. It was an official selection of the Action on Film International Film Festival, IndieFEST Film Awards, Shawna Shea Memorial Film Festival, and Top Indie Film Awards. It also placed as a semi-finalist at the Los Angeles CineFest and won Best Feature Documentary Awards at the International Independent Film Awards, Mindfield Film Festival, Albuquerque, and Alaska International Film Awards.
From the synopsis of OFF THE STREETS FOR GOOD: In this documentary feature film, several previously homeless people recall their hard journey towards having a home again. Mistreatment was rampant and we hear about the difficulties living on the streets directly from a former prostitute who lost her eye when she was shot and a professor who was put on the streets by her parents for coming out as a lesbian. You will also learn about the struggles with homelessness from a classy middle-aged man, who now helps the homeless, and about the problems faced by a young gay black man who almost died living on the streets in the stranglehold of drug addiction but is now thriving as he helps the homeless as part of his job. The directors of two nonprofit organizations share with the viewers the pleasure that they receive by helping homeless individuals overcome their challenges.
Prof. Lagana performs randomized controlled trials using her films to test whether they have a bias-reducing impact on viewers. With her research team, she has conducted several research presentations at national and international conferences on this exciting and unique line of research and has a peer-reviewed publication in this area.
When she found out that she was nominated for 2 awards at the Hollywood Dreamz International Film Festival in Las Vegas - for Best Female Director of a Feature Film and Best Political Statement Film, she was happy to be in the same categories with filmmakers who have a strong reputation in the film industry. Their films are mostly backed by investors with larger budgets, while she has been spending her personal savings to produce her passion projects. Winning a film award at this highly competitive festival was not likely, she reasoned.
"At the award ceremony, just before they announced the winner in the Political Statement Film category, my husband told me that he believed that I would win, as I did at the 2016 Action on Film International Film Festival for another anti-bias feature film of mine, LGBT UNITED. I told him not to be disappointed if this would not happen, as I had watched some of the other filmmakers' movies and was highly impressed. The quality of many of these independent films was excellent, and several of them were of studio quality. It was a great honor just to be nominated next to those film industry professionals, but I really did not expect to win. I was surprised when I was announced as the winner and called to give a speech at the podium. I will have great memories of this moment for a long time, and I will continue doing my best to make impactful social cause feature films that could positively influence their viewers," concluded Dr. Luciana.
Written by Stefanie Friesen
Dr. Luciana Lagana is a caring clinical and experimental psychologist. She is also an established professor of psychology, gerontology, sexuality, and women's health at CSUN, where she teaches classes and mentors many undergraduate and graduate students from several departments. Additionally, she conducts government-funded research on ethnically diverse, mainly low-income older women's physical, psychological, social, and sexual health. Concerning her artistic pursuits, since 2006 she has been studying acting and hosting in Los Angeles (in her teens, she was part of a touring theatrical company in Italy). Moreover, after studying film production under the mentorship of Prof. Nate Thomas, Director of the CSUN Film Production option in the Department of Cinema and Television Arts, she has been producing several social impact films and series. She is an actor/screenwriter/director/producer with over 30 film festivals' wins listed on IMDb and more than 50 IMDb film, TV, and web series' credits. For instance, she created, hosted, and directed the award-winning educational project "Dr. Luciana Show – Aging and Falling" and won the 2017 CSUN Exceptional Creative Accomplishments Award for her anti-bias feature films and shows. At CSUN, Prof. Lagana also won the 2011 Preeminent Scholarly Publications Award and the 2008 Visionary Community Service Learning Award.