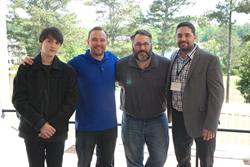 After each challenger pled his case, attendees of Bacak's online traffic workshop voted for a winner.
Duluth, GA (PRWEB) May 08, 2015
In the Internet marketing sphere, only a rare few manage to differentiate themselves and achieve noteworthy success. Matt Bacak, a former Internet Marketer of the Year, is one of those individuals. To recognize the accomplishments of other standouts in the field, his exclusive mastermind group, The Profit Coalition, recently held its own Marketer of the Year competition.
According to an October 21, 2013 Fox Business report, small business owners who pay themselves a regular salary "are receiving an average salary of $68,000 annually, down from $72,000 a year ago. In addition, nearly 15 percent of small business owners need to work a second job while running their business in order to make ends meet."
The Profit Coalition, operated under the auspices of Internet marketer Matt Bacak, was founded to help entrepreneurs not only buck this trend but actually trounce it. An exclusive mastermind group, TPC – as it is affectionately referred to by its members – is open only to highly qualified, motivated and determined entrepreneurs and business people.
To bring out the ultimate of these success qualities, the coalition recently held an Internet Marketer of the Year competition. The duel, which featured three TPC Mastermind members duking it out, took place May 1–2, 2015 at Bacak's private online traffic workshop. The venue was the private Sugarloaf Country Club in Duluth, Ga.
Going head to head for the title were Matt Stefanik, Temper Thompson and Brian T Evans, Jr. To take home the trophy – the same one that is awarded at the Grammy's – participants had between 15 and 20 minutes to explain why they were deserving of being named TPC's "Marketer of the Year." More specifically, they were charged with sharing what their business looked like before they started working with Bacak, where they are now in their entrepreneurial ascent and what they see their in their professional future.
"The competition was fierce from the get-go," explains Bacak. "Stefanik literally doubled his business last year." Bacak went on to describe Thompson as a 17-year-old Internet marketing whiz kid. "This young phenom started making money online when he was 12. Five years later, he's raking in 5 times more money online than the average salary of his high school teachers." And then there is Evans, who has been working one on one with Bacak over the past year. In that timeframe, "he's managed to achieve a 2,360 percent ROI."
After each challenger pled his case, attendees of Bacak's online traffic workshop voted for a winner. At the end of the tightly contested race, Evans was ultimately named TPC's "Marketer of the Year."
For more information on the achievements that earned Stefanik, Thompson and Evans entry into the TPC Marketer of the Year competition, visit their video's online at http://www.profitcoalition.com/battle/ To learn more about membership into The Profit Coalition mastermind group, contact Bacak at 404-537-1425.