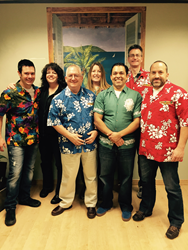 After the conference, we all went back to our regions more reinvigorated than ever before.
Denver, Colorado (PRWEB) January 31, 2015
Maui Wowi Hawaiian, a global retailer of premium island grown coffee and freshly blended fruit smoothies, recently wrapped up the annual winter gathering of the company's Franchise Advisory Council. Meeting twice a year, the six person team of franchisees, along with a Director of Regional Support representative, sat down with company executives to discuss 2015 initiatives and continue the momentum that emerged from the Maui Wowi conference this past fall.
The three-day meeting tapped into the positive energy from conference and allowed the regional representatives to voice new ideas, best practices, and discuss strategic goals that are aimed at providing additional levels of support and tools for success.
"After the conference, we all went back to our regions more reinvigorated than ever before," said David Beauchamp, Franchisee and FAC Member for the Pacific Region. "In the two months since then, we have had time to digest what we learned and are ready to work together with our 'ohana and the Mainland to implement the strategies and initiatives that directly affect our businesses."
In January, based on a commitment to communication, the company began hosting a series of weekly informational webinars that tackle all angles of the business to help engage and assist franchisees. Mike Weinberger, Chief Executive Officer, of Maui Wowi Hawaiian says the focus this year is on supporting the franchisees and implementing new tools and methods to take the company to the next level.
Another meeting will take place in February with the company's Directors of Regional Support who will also play a significant role in the collaboration and ongoing efforts to increase success and continue growth.
About Maui Wowi Hawaiian
Since 1982, Maui Wowi Hawaiian has embraced the Hawaiian culture and has been serving paradise in a cup since the day it began, over 30 years ago. From event carts, mall kiosks and stand-alone retail locations, Maui Wowi Hawaiian offers premium, all-natural, gluten-free, fresh-fruit smoothies, as well as gourmet Hawaiian coffees and espresso beverages. The company maintains strong community involvement through fundraising efforts by its franchisees, in addition to Team Karma; an initiative that promotes corporate responsibility and giving back to the community. The brand has more than 450 operating units in seven countries and an online store, shop.mauiwowi.com. To learn more information about Maui Wowi Hawaiian's products, locations or flexible, low-cost franchising opportunities, visit http://www.mauiwowifranchise.com.
###