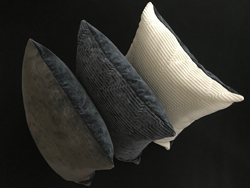 "If I had to hear one more gripe about my beloved throw pillows, I was going to smother him with one." Jaclyn (Jimenez) Sato
LOS ANGELES (PRWEB) May 01, 2019
For many couples, the living room sofa is their sanctuary. It's where they entertain guests, watch TV, or fit in a much needed nap to offset their busy lives. But often times, the decor isn't designed to be comfortable, especially throw pillows. Traditionally made of expensive but coarse fabrics, throw pillows commonly exist to accentuate the room or match the curtains. So while they look great, they can feel like lying in a briar patch. However, newlyweds, Jaclyn and Kai Sato, have set out to change that with their debut pillow line.
Their company, JacKai Home, blends style and comfort through products that are designed to make moments with loved ones even more enjoyable.
Jaclyn (Jimenez) Sato, cofounder of JacKai Home, said "When my husband and I started living together, our only drama was caused by our living room throw pillows. Kai would grumble that one was too small, another too hard and yet another one had ornate stitching that 'stabbed' his face. Every time we'd have people over, he'd start making jokes about our 'useless' throw pillows and rant about how the industry needed to change. If I had to hear one more gripe about my beloved throw pillows, I was going to smother him with one. Having spent over a decade in home decor, I set out to solve our problem and soon discovered that it was a common pain point among many of our friends. And so JacKai Home was born."
Unlike traditional throw pillows that are designed to look good but not necessarily feel good, the pillows from JacKai Home differ greatly from those typically found on the sofa.
First, at 22 by 22 inches, they are larger than most throw pillows. Second is their fabric. The front of each pillow is hand cut from elegant yet extremely soft velvets, while the pillow's back features the company's signature velutinous SnuggleSide™ that is ideal for faces. Third, the pillows are filled with a marshmallowly, down alternative insert which makes them hypoallergenic. Lastly, the zippers are hidden so that no one will be poked or scratched when dozing off for a siesta.
Bringing new products to market and growing startups are areas where the couple is well-versed.
In 2018, Mrs. Sato received the "Future Leader" award from the American Home Furnishings Hall of Fame. She began her career in home decor with Pom Pom at Home before being recruited away by BAMKO to help Fortune 500 brands design and source merchandise on a global scale. She was later lured back into home decor by CODARUS to work in a sales and marketing capacity. Mrs. Sato currently helps oversee the Southern California and Hawaii territories for Universal Furniture.
Kai Sato works in venture capital and has been involved with a range of early-stage companies in sports and food.
About JacKai Home
The mission of JacKai Home is to enhance the time that we are blessed to spend with our favorite people. Our products blend style and comfort to deliver truly livable luxury experiences. They are intended for those who strive to express gratitude each day and share our unwavering commitment to Love, Passion, and Purpose. Each product is designed for enjoying the moment and handmade in Los Angeles.